By OGBONNA AMADI, Entertainment Editor & BENJAMIN NJOKU
Veteran actor, Prince James Uche who has been battling diabetes and hypertension that left him almost bedridden for two years now is homeless at the moment.
The tough-talking actor has been kicked  out of their Gbagada, Lagos residence by his wife, Ekene  who  claimed to be tired of running the affairs of their family all alone.
The displaced actor is currently squatting in a white-garment-Church, located near his former Gbagada home in Lagos. He is calling on all well-meaning Nigerians to come to his rescue.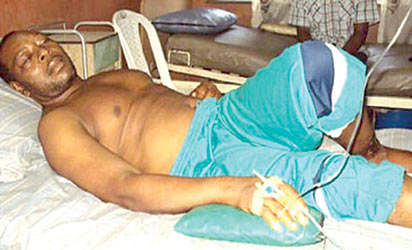 WG gathered  that Uche's wife, a seamstress in Gbagada,  allegedly got fed up with her husband's endless predicament after two years of single-offhandedly fending for the family, resulting in her reaching the drastic decision to throw him out of their house.
A source close to the couple said trouble started for the Abia state-born  actor, when he recently returned to Lagos after spending more than a year in his home town, in Abia State. He had gone to seek alternative solution to his protracted ailment only to return to Lagos, to meet his  wife a changed person.
He was said to be practically having  issues  with her  almost on daily basis  since stepping into their rented apartment.
"While he was sick, his wife took over the responsibility of catering for the family, including paying the children's  school fees. So, when he returned to Lagos recently after spending more than a year in Abia State, his wife couldn't stand him any more.
The situation forced the actor to relocate to a nearby white garment Church, in Gbagada. It was in the said Church he allegedly received healing from his illness. "The Church serves as his current abode" narrated our source.
Given his present condition, Prince Uche who has been off the screen for sometimes now, and almost impoverished following his protracted illness is calling on Nigerian to help save his marriage from hitting the rock as well as rehabilitating him. He does not want his marriage to crash because of his inability to fend for his family.
According to him, since his illness started two years ago, he has not featured in any movie, adding that his desire is to stay together with his wife to train their three children.
His words  "Í don't want my marriage to crash. I'm once again calling on Governor Theodore Orji of Abia State to come to my rescue. He responded well by paying my hospital bill the last time I was on admission. Though God has healed me, I sincerely need help."
Prince James Uche, two years ago was diagnosed to be suffering from diabetes and hypertension. He spend over eight months at PAX Medical Clinic located in Ijesha-Tedo, Surulere, Lagos, where  he was unable to upset his medical bills until Governor Theodore Orji  of Abia State  came to rescue, courtesy  of Saturday Vanguard reports on his predicaments.
Still recuperating from the illness, Prince Uche relocated to the eastern part of the country about a year ago to seek for alternative solution to his ordeal.  He returned to Lagos recently to reunite with his family, only to be kicked out of the home by a wife who stood by him  even  when  his condition  was unbearable.
Genesis of his ordeal could be traced to when  he collided with a BRT bus in the Anthony Village area of Lagos in 2010. The father of three children, recalled that after colliding with the bus, the next thing "I noticed was that my leg began to swell. And since the incident happened, I have visited several Churches and hospitals to no avail".
Today what Prince Uche thought was a minor injury has surpassed his wildest dream. With no solution in sight only the aid of well meaning Nigerians can make the difference in the life of the veteran actor.
Subscribe for latest Videos