By Ishola Balogun
Ten years after Imam Sheez Adeyemi died and buried beside his mosque in   Shogunle, Lagos, his body was exhumed recently revealing another miracle of life after death.  The sand and stones were lifted from the grave, the planks which were used as cover were all rotten.
The white cloth used in wrapping the body remained even whiter, and the dangling body was brought out intact as though it had just been buried. There was no slightest trace of an unpleasant smell let alone any decay of his body.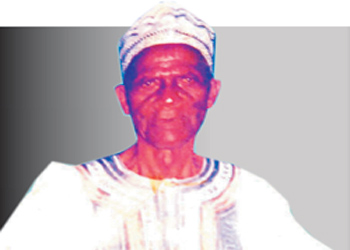 It was a surprise to many of them who were present at the scene, yet, a miracle to others. In a jiffy, the news permeated every nook and crany of the area and poeple trooped to the venue to see for themselves how a body buried ten years after was still fresh.
Son of the deceased,  Imam Abubakar Sheez Adeyemi who had buried him ten years ago and led the team that carried out the exhumation while speaking with Saturday Vanguard noted that the body did not only decompose but was fresh as if he had just died; the way it was on July 23, 2003.
He said he opened the white cloth which showed no stain and gave the corpes a kiss on the head.  After a couple of hours contending with the mamoth crowd that sought to witness it, the body of Imam Sheez Adeyemi was placed on a mat and taken to another site for burial.
Why the body was exhumed
Imam Abubakr Sheez Adeyemi explained that the present owners of the land had put it up for sale and demolision occured which affected the mosque where he was buried, mainly as a result of its proximity to the Agege Motor Express way.
He said: "In the early 60s, the former Baale built the mosque, being the owner of the land.   Adeyemi Alhaji Momoh Wosho, Late Ibikunle, and Kadiri, Mustapha Akanni families had close relationship with my family.  My late father, Sheikh Muhammad Sheez Adeyemi became the Imam of the msque.
Long after, he requested to be buried there after he died.  The request was granted by the then owners of the land. He died on July 23, 2003, and he was buried there."
He continued: "Sometimes last year, we heard that the present owners of the house behind the mosque which are the grand children of the former Baale, had put it up for sale and that the mosque would be demolished because of the closeness to the road, (Agege Motor Road).
The name of the mosque was Sharafudeen, and it was pulled down recently.  So, our family now decided that we had to exhume the body of the late Imam and rebury in my site at Ayobo, Lagos."
"We went there that early morning after we had secured a police report for the exhumation.  Our intention was to gather whatever we could gather to Ayobo for re-burial.  But to our outmost surprise, we met the body intact.  The white cloth with which he was wrapped ten years ago was clean; we only removed the sand on it leaving no stain.
We used to hear such thing, and I have also read it, but I have just seen it real now.  I have also read as proven by some scientists that if a particular soil has some specified chemical components, there is the likelihood that the body will not decompose.
But we are surprised that the wooden plank used as cover had all decay. I was the one who supervised the the process when the body was commited to the grave in July 2003, ten years ago. So, on November 23, 2010, his body remained as it was when he died.
Again, the perfume we sprayed on him was still smelling and the white cloth with which we wrapped the body was as clean as it was ten years ago."
"What I noticed was that when we started digging, the soil was dry and before we got to the depth of the grave where he laid, the soil became moisturised.  It was so soft that, you will think they had poured water therein. It was the white cloth we saw first, then I ordered that they should use their hands since they were wearing hand gloves.
Behold! we carried the body out intact.  We were speechless but we glorified Allah; we took the body to my site at Ayobo, offered prayers for him and re-buried the body.
His life
Baba was known for his devotion to Allah.  He committed himself to fasting, night prayers, and recitation of the Qur'an.  For over thirty years before his death, which I know,  he did nothing other than fasting and prayers.  Throughout the year, we discovered that he did not fast for about 90 days.
Sometimes, we quarreled with him on the prolong fasting because of his age,  he needed to eat as an when due, but he would not listen.  What we noticed in him was that if we force him to abandone  fasting, he would be sick, but he was always happy and healthy when he fasted. Most often, he ate vegetables and fruits and little of other foods.
I think God is reminding us that it is good to do good and carry out our duties to Him; and for those who can shun worldly things, the reward is bountious.  Baba was not after material things, he did not build any house, he did not have a car, and he was not rich; but he dedicated his life to God and was nice to people. Truly, if one worships God in truth and do good to people, if such person dies, he will not rotten.
I joined in carrying the body, says Awolowo Olatunde Bodunrin
When I heard the body was going to be exhumed, I told the son that it was going to bring out the name of the family.  But I didnt know how.  That day, I returned from work early in the morning after a night duty, I decided to go through the back and I saw them digging the grave.
So, I decided to wait. By the time they dug deep, we saw the white cloth, and behold!, the body was brought out, we were all looking at ourselves, speechless.  Then, I reminded the son what I had told him about the exhumation that it will bring out the family's name.
I am a christian and this is what is called sainthood in christianity.  It is happening all over the world  to people who actually did what God wants. To those people, termites, insects have no power over their bodies when they die.  In fact, I had to join them in carrying the body.  I carried the head, holding the head to the back and the body was dangling as if he had just died. The crowd was wholesome.
Ganiyu Ibikunle, Shogunle resident
He was known throughout this Shogunle, he gave what he had to any one who needed it.  When he was alive, he was a source of inspiration to so many young people for doing what is good.  When he died ten years ago, the youths and some people in the neighbourhood came together and organised a a 7-day lecture in his honour, because we knew he was a man of God.
So, for me, I was not surprised.  But, it is a wake-up call for all adherents of the religion. No matter what people say, just do what is right.  It also show that there are other things after death.
Alhaja Qamuriat Bello Owosho
When he came to Lagos, he worked in the aviation sector and retired gloriously.  He was a maison.  He was known for good deeds, although he was not rich, but he impacted on people's lives so much that we can not mention.
But those who benefitted from his good works know.  There was nothing he had he could not give away.  He died ten years ago and we buried him at the mosque based on his wish.  When I heard the news that his body remains intact, I was full of praises, I immediately went there to see for myself.
By the time I got there, I saw a mammoth crowd. People began to extol his virtues and the street boys immediately coined a cliche from the incidence. 'Sherere o'  Do good. It is now a norm in the area where young boys will say it to one and other.