By Ifeanyi Okolie
A 26-year-old  man has been arrested  by the National Drug Law Enforcement Agency, NDLEA,  for alleged drug trafficking.  The suspect, identified as Nzeka Chika, who was heading to Malaysia, was caught  with over 1.800kg of methamphetamine worth over N5 million, stuffed into tin tomatoes at the Murtala Mohammed International Airport, MMIA, Ikeja, Lagos.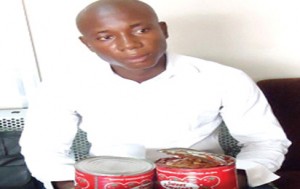 The suspect  who claimed to be ignorant of death sentence for drug offenders in Malaysia is being interrogated by anti-narcotic agents over unlawful exportation of  the drugs.   Officers of the agency  who  made the arrest at the weekend following the discovery of drugs inside tomato paste at Lagos, Nigeria, said the suspect is cooperating with investigators.
According to a source, the drug  which was  industrially packaged in two big tin tomato containers, clothes and foodstuff was detected during the outward screening of an Egypt Air flight to Malaysia at the Lagos airport . NDLEA Airport Commander, Mr. Hamza Umar who gave the name of the suspect, as Nzeka Chika, a commercial motorcycle rider in Okigwe, Imo State said he was still under interrogation.
"The two big tin tomato pastes with 1.8kg of methamphetamine were in Nzeka's bag containing clothes and foodstuff like yams, rice, beans, garri and spaghetti. The food items were meant to distract officers from the tomato pastes" Hamza stated.
Similarly, NDLEA operatives at the Lagos State Command arrested a drug peddler, identified as Yomi Kito.  Sources said the   arrest was affected after a raid at the notorious drug enclave of Akala Mushin, Lagos last Saturday.
Residents of the area who applauded the agency after the arrest urged them to carry out more of such raids.   A resident, who  craved  for anonymity over fear of reprisal told Crime Alert,  "We have suffered a lot of insecurity  from  the presence of these hoodlums smoking Indian hemp around this area for a long time and security agents have been insensitive to their presence. We want them to do this often so that they can make this area unattractive for drug users."