By Dayo Adesulu
The Managing Director and Brand Consultant,Indomie, Mr Tola Bademosi has said that the purpose of hunting for heroes amongst Nigerian children, recognizing and rewarding their heroic acts is neither a marketing strategy nor a promotion for the brand but purely a Corporate Social Responsibility calling on corporate bodies and individuals to support and recognized Nigerian children for their act of heroism.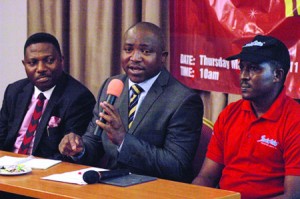 Bademosi asserted that the objectives of the initiative was to seek out, acknowledge and encourage children who have exhibited acts of bravery and made notable sacrifices without any recognition in the past saying they are out to call to remembrance the timeless values of bravery acts and entrench the brand's theme campaign in the minds of the public. "It is to inspire acts of heroism in youngsters and to re-enforce the brand's commitment to corporate social responsibilities," he said.
Speaking at a national press briefing held recently at Maryland, Lagos, Bademosi reiterated that the Independence Day Award for Heroes of "Nigeria n Child" which started 2008 will hold on October 8th 2011 at Federal Palace Hotel. But before the grand finale, he noted that it will begin by a search and nomination process which is a herculean task as they are made to go to the hinterland of this country to discover them.
Elaborating on the award, Public Relations Manager, Dufil Prima Food, Mr Tope Ashiwaju disclosed that there are certain exceptional qualities the searchers are looking out for in the lives of children between the ages of 5 to 15 which Indomie will celebrate.
According to him, qualities like skills displayed, determination to conduct the act, leadership demonstrated, demonstrated excellence, degree of difficulty of act and sacrifice made. Others include; degree of risk involved, exceptional courage demonstrated, and quality of inspiration role model for other kids and future goals and likely impact on the society.
In the quest to discovering the above qualities among children, Ashiwaju pointed out that in the past years, the organization had worked in conjunction with Police Stations, Schools, Village heads, and Local government councils as they are closer to the people at grass root.
Through this medium, he stated that thousands of entries come in yearly which are screened by panel of judges until the best is discovered. "However, an Independent Research firm has been commissioned to search for true stories in 10 states to identify the new heroes while members of the public and journalists can also send in nominations," he said.
Ashiwaju however warned anyone against faking or staging it saying that children should be discouraged of engaging in any activity that may endanger their live in the quest to win the Award reiterating, "It must be an act of bravery done in the past."
Given examples of bravery demonstrated by some children in the past, he cited the exceptional qualities of 2008 to 2010 awardees. "In 2008, fourteen year old, Kali Bala was rewarded for his bravery because he jumped into a burning fire and rescued his younger sister who was trapped in fire. In the process, his legs were badly damaged. Bala was rewarded with a million naira for the bold steps he took.
Similarly, Chia Mbir, a fifteen year old boy became a million naira richer in 2009 when he displayed exceptional attitude for rescuing five passengers alive in a military ill-fated aircraft 2006 mishap.
Besides, Miriam Umar, a physically challenged fourteen year old girl who was born without hands does everything by herself.