By Kingsley Adegboye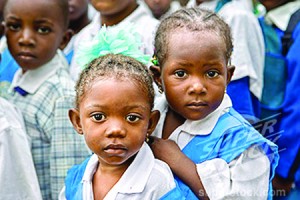 In its continued efforts to address the menace of climate change, the Lagos State Government through the Ministry of the Environment has tasked principals and teachers in Lagos schools to support the initiative of the Government in their respective schools.
The State Commissioner for Environment, Dr. Muiz Adeyemi Banire who charged the education sector at a one-day seminar organised for principals and teachers of schools in Lagos last week, added that the seminar was part of attempts to catch "our future leaders young and ingrain in them the causes and effects of climate change and their role towards a sustainable environment.
"It is to remind us about the importance of not only fighting climate change but the essence of involving school children whose future is being threatened by the effects of global warming. The Governor had performed the official launch of climate change clubs in Lagos schools to "re-orientate our teeming youths and inculcate in them sanitary and greening habits to enable them serve as agents of change in the larger society', Banire noted.
The commissioner said the Lagos State Government was concluding arrangement to handover the Climate Change Clubs in schools to school authorities, pointing out that "I am convinced that our school advocacy teams have done their part in starting the clubs and nurturing them in many of our schools and the time is ripe to hand over the clubs to the leadership of the schools for sustenance". He said. Banire reiterated the resolve of the present administration to contribute her quota to the fight against global warming because of the vulnerability of the state and Nigeria to the consequences of Climate Change.
He lamented that Nigeria is threatened on all fronts by the consequences of climate change. The West of the nation is vulnerable to flooding and coastal erosion. Lagos, Ondo, Edo, Delta Cross Rivers. Soil erosion occasioned by the intensity of rainfall is terribly degrading arable lands in the South East, causing gullies and destroying lives and property while the North is being ravaged by desert encroachment.
In Nigeria, 11 States including, Katsina, Kano, Borno, Adamawa, Kebbi, Zamfara, Bauchi, Sokoto, Gombe, Jigawa, Yobe are being ravaged by desertification. The Commissioner charged the participants to ensure that waste sorting and recycling competition, tree planting and nurturing competition tagged "Me and My Tree" debate and quiz competition both at intra and inter school levels form an integral part of sustaining the Climate Change Clubs.