BY GIFT GABRIEL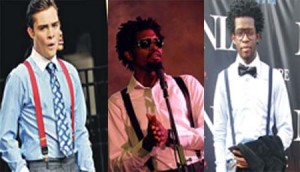 Back before there were belts, gentlemen used suspenders to hold up their pants, and this earned them that classic look which always comes with wearing suspenders. Suspenders typically make for a more masculine silhouette, especially for men with broad shoulders. Little wonder they still remain highly adorned among fashion-conscious dudes centuries after the arrival of dress belts. Suspenders are at their best in formal settings when worn with a crisp white cotton shirt and a pair of jet black dress pants – either plain or lightly patterned. Though not visible when worn with jackets, suspenders lend a distinctly unique and polished look in either a jacket-on or a jacket-off scenario. Just make sure they match your suit colour and you'll be on for a winner as soon as you take your jacket off.
How to wear them
Simply attach them to the waistline of your pants. For clip-on suspenders, open the jaws of the attached clips and place them, equidistant from the back seam and the crotch seam, about where the pelvic or hip bones protrude (3-6 inches from the center buttonhole of your pants).
For button-sewn suspenders, sew the buttons into the waistband of the pants that will be worn most frequently with the accessory. Long loops of leather or faux-leather can be slipped over the buttons that have been sewn into the pants in lieu of the clips. Spacing for the buttons remains the same as you would use for the first method.