Says indigenous coaches need encouragement
Former captain of the Super Falcons, Florence Omagbemi has warned the Nigeria Football Association, NFA to tread softly over the issue of hiring a technical adviser for the senior national female team as they prepare for the 2011 FIFA Women's World Cup holding in Germany.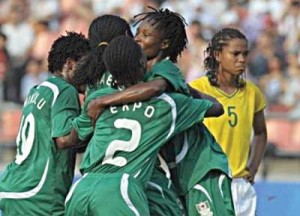 Writing from her United States base, Omagbemi said her warning follows her personal experience as player and captain of the Falcons from 1999 to 2003 when the issue of a technical adviser brought confusion to the team.
According to her "In 1991, Paul Hamilton was the head coach of the team. There were all kinds of  issues going on. There were cultural differences, financial issue, welfare and so on. With all this on ground, Hamilton was able to qualify the team for the World Cup for the first time. He is a great man with great knowledge of the game with  good principles.
Immediately, they brought in a technical adviser to head him, without informing the coaches and players and no clear explanation of roles and responsibilities.
Hamilton tried to do his best with the team but the technical adviser had no clue. We went to the World Cup with all kinds of drama. This was the team that had good flow during the qualifiers,"she said.
While congratulating the Falcons for winning the African Women's Championship in South Africa, Omagbemi said that people don't understand the problem of drafting a technical adviser into a team after the team must have qualified for a competition through another coach.
"I am not saying it is bad but the timing has to be right. There must be a good reason for bringing a technical adviser. There must be good relationship between the technical adviser and the head coach, they must explain to them clearly their roles and responsibilities in the team," she said, stressing "Uche has done a great job with the team as the head coach.
Their performance in South Africa can tell that the coaches and players are in good flow. If the coach requested that she needs someone higher at this stage to work with fine, but if not, let her do her job as the head coach."
"They should allow her to run or head the team. She knows more about the players. If there is need for a technical adviser,  he or she should work side by side with the  coach. No distractions at this stage," she warned.
She disclosed that a good example for allowing Uche remain as the handler of the Falcons was the case in 1999 when "Ismaila Mabo took us to the World Cup, we made it through to the quarter finals without any technical adviser and lost narrowly to Brazil by 3_4 during extra time. That was one of our best outings."