By Richard Animan
The 2010 Ryder Cup has come and gone with Europe smiling home with the trophy, dethroning defending champions United States of America.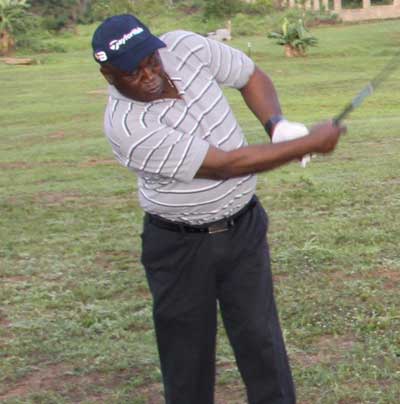 But the furore that the qualifiers generated in Nigeria is yet to die down as winners who qualified to be in Wales for the competition are up in harms with organisers of the event. The winners are demanding for N1m as compensation from the organisers or they head to court.
Prior to the Ryder Cup that took place in Wales, a company with the name Lords organised four zonal competitions in Ikeja, Asaba, Calabar and Port Harcourt with promises to winners that they will be in Wales for the Ryder Cup. Of the four winners, only two made it to Wales and two others failed to get entry visas on time to be part of the golf tournament.
Asaba-based golfer  Wing Commander Peter Iweze (rtd)  with Ibori Golf and Country Club emerged  the Asaba winner of the Ryder Cup golf tournament, which had also produced winners in Ikeja, Calabar and later in Port Harcourt.
Iweze in his enthusiastic manner called up this reporter and said "I have won the Ryder Cup ticket and would be in Wales for the Ryder Cup proper courtesy of Lords organisers of the qualifiers". One could feel the excitement in his voice.
The Ryder Cup is a great golf tournament and most golfers will do anything to be part of the tournament that pitches together the best professional golfers from United States and Europe.  Days later, Iweze was in Lagos for his visa with the hope of travelling to Wales. But hopes of travelling thinned out as it became obvious that he and another winner (Calabar) will not be able to make the trip.
According to Iweze, after the failed trip, he demanded for his ticket refunds (Benin-Lagos, Lagos-Benin) and got it but now, he wants the organisers to compensate them for winning and not be able to benefit from the package put together by the organisers.
"All we are asking for is for Lords to compensate those of us that won their tickets but could not make it to Wales. We are aware there is a package for the winners. Each time I call, I am told that they are in a meeting and nothing concrete has come from them", Iweze said.
The Golf Course called the organisers of the event and got an invite to its Oregun office. There the Product Group Manager, Bolaji Alalade explained their side of the story.
"We had four winners , two travelled because they got their visas on time.  It is unfortunate that they (Iweze and the other winner from Calabar) could not travel to Wales due to late submission of their travel documents. I (Bolaji) also did not travel because I could not get entry visa in good time. I got my visa after the tournament had ended, so also did Iweze.
"Due to the problems we encountered, we tried through the agency that we are working with to get refunds of the UK tickets and other packages but they were only able to cancel one ticket (My UK ticket) They said because the programme was a package, it was difficult to do anything.
We are still meeting and we are hopeful that we will compensate our winners who failed to travel to Wales. All we ask for his patience and understanding.
"For now I cannot say what the compensation will be or when it will be done but I am sure we will do something", Alalade  said.