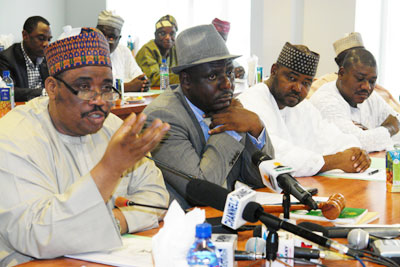 By Ben Agande
ABUJA — The presentation of the amendments to the 1999 constitution by the Speakers of the state Houses of Assembly to the leadership of the National Assembly would be made on Monday, Vanguard has learnt.
A member of the Senate Committee on constitutional amendment who spoke with Vanguard in confidence in Abuja yesterday said the leadership of the Conference of Speakers of State Houses of Assembly has communicated to the leadership of the National Assembly about their readiness to submit the reports.
Spokesman for the Senate and Chairman, Senate Committee on Information and Media, Senator Ayogu Eze, told Vanguard when asked if the report would be received on Monday that "we are still awaiting communications from them."
It would be recalled that after an elaborate arrangement by the leadership of the National Assembly to receive the report from the state Houses of Assembly, the dignitaries left the venue of the event disappointed as the expected document was not ready.
Chairman of the conference of Speakers of state Houses of Assembly, Istifanus Gbana who apologised to the senate leadership on behalf of his colleagues who failed to present the report blamed the failure on the procedure adopted by some state assemblies in considering the amendments.
According to him,"what I can say for now is that the procedures that were adopted for the passage of these resolutions differ. Some states organised public hearings, others adopted the same procedure for a bill before the House and you know these two procedures are not the same and one will consume more time.
That was why some states are left behind and they have not been able to pass the bill."
But that does not mean that they have not started any process towards the passage; it is just that they have not been able to conclude the process.
Secondly, by the time the National Assembly transmitted the harmonised copy of the document to the Houses of Assembly, some of our colleagues were on recess and they had to reconvene immediately to start this process. This is where we had some of the delays," Gbana had explained.
He also promised that those states had been given one week within which to submit their reports.
Subscribe for latest Videos