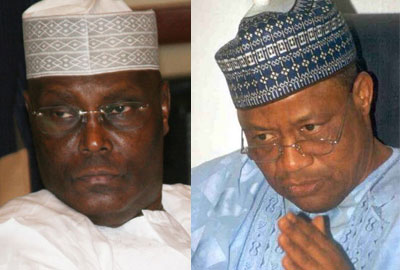 ABUJA—PROMINENT political leaders including former President Ibrahim Babangida, former Vice President Atiku Abubakar, former Senate President Iyorcha  Ayu, former Chairman of the Peoples Democratic Party, PDP, Chief Audu Ogbeh, Mallam Adamu Ciroma and Alhaji Bello Kirfi as members of the Northern Political Leaders Forum, yesterday, marshaled arguments in favour of retention of zoning and warned that its abandonment could have significant consequences for the stability of the polity.
While arguing that its mission was not to stop President Jonathan Goodluck from contesting the 2011 elections as was being portrayed, the Forum said it was out to safeguard "the system of equity and fairness which would give all Nigerians a sense of belonging."
The forum said: "It is our view that the system of zoning and rotation would secure every Nigerian the opportunity to access political power and thus engender peaceful coexistence of the various components of the country".
While noting that the demand for zoning emanated from the Southern part of the country  prior to 1999 ,the  Forum said it was regrettable that the nation is sliding back to its pre-1999 situation whereby a deliberate and dangerous propaganda is being deployed to confuse Nigerians about which section of the country can produce the nation's next president.
"This was an issue, which has long been resolved, leading to the emergence of Presidents Olusegun Obasanjo and Umaru Musa 'Yar'Adua in 1999 and 2007 respectively. Some of us have played a key role in ensuring that a Southerner has emerged President of Nigeria in 1999. We did this, not just as Northerners, but more importantly, as Nigerians who remain convinced that the only way to stabilize this country is to continue to give and take.
On the argument that zoning is not provided for in the 1999 Constitution, the Forum argues that there is no section of our Constitution that outlaws zoning and rotation.
"There is also no provision in that Constitution that prevents political leaders from going into special arrangements to share power, ensure equity and stabilize the polity. We also believe that every segment of Nigeria is endowed with qualified and competent leaders able to face the challenge of providing high quality service at different levels of public life."
Advocates of zoning
Addressing the argument that advocates of zoning are doing so out of inability to compete in a free election, the Forum states that rather, it is insisting on zoning and rotation " on the grounds of principle and not targeted at the speculated aspiration of President Goodluck Jonathan or any other person in 2011.
In fact, it is not even about the presidency; zoning and rotation affect all levels and segments of public office in the country. We believe that zoning and rotation will, for the foreseeable future serve the best interest of Nigeria and its political stability, at least in the short- and medium-term.
For instance, there would have been no need for a special political arrangement to concede power to the South in 1999 if Nigerians were ready to accept their presidents to come, perpetually, from any part of the country.
The Forum also warned against the consequence of abandoning zoning and power rotation which have helped stabilize the polity. "In practice, zoning and rotation as political mechanisms to stabilize the country since 1999, have applied to every political office in Nigeria at all levels.
We must be certain that we are ready, as a nation, to jettison the practice at all levels before we throw it overboard or set in motion a process that may lead to avoidable chaos and anarchy in the land. And once we do that, we must make sure that we will not return to the regime of allegations of political domination by one section of the country."
Subscribe for latest Videos