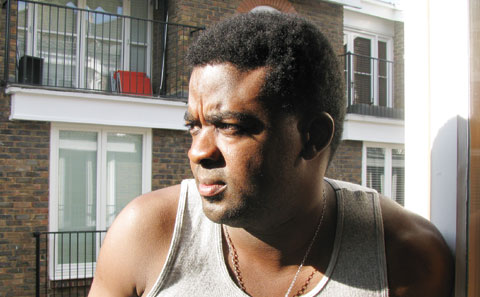 By Benjamin Njoku
Kunle Afolayan looms large in Nigerian film industry.  And having hit international fame as a distinguished director, actor and producer,  his second feature film, 'Figurine" recently put other African film makers on their toes, as it cliched five awards at this year's African Movie Academy Awards.  
Afolayan believed that the landslide victory his film recorded at AMAA was as a result of his commitment to setting a standard for African film makers. For him, "Figurine" was a product of experiment to see how he can give Nigerian film makers an edge over other film makers from across Africa.
Speaking in an interview with HVP after his victory at AMAA during the week, Afolayan urged film makers in Africa to pay attention to details, picture quality and sound effects.
"My work speaks for me, simply because what I have been able to learn while growing up as well as when I was in the  film school, coupled with the experience I have acquired in the last one decade has given me that edge over every other film maker within and outside the shores of Nigeria."
Afolayan  said he learnt a lot after producing his first feature film, "Irapada' which also won the Best Indigenous Award at 2007 AMAA .
"For me,  Figurine was an experiment. I wanted to see how I can add value to film making in Nigeria. After producing, "Irapada", I learnt a lot of lessons, which I tried to improve while shooting "Figurine". I didn't even totally achieve what I wanted to achieve in "Figurine". It wouldn't have come out better than what it is today because of a lot of hitches, which we recorded  here and there. I thank God that the film is still a success. But I'm sure it would have done much better if those hitches were eliminated," said the celebrated film maker.
Figurine, he continued, "was purposely done in that class to prove to my colleagues and entire African film makers that if we take our time and add a few things here and there to our production, we can stand the chance of placing our films side by side with any film from either Hollywood or Bollywood."
The big budget film, which premiered in the UK and US cinemas, took Afolayan four years to produce. "Shooting the film took us three months, while post-production and pre-production took us four to three months respectively. Also, it took us almost a year after the script was ready to complete the production process.
The budget of Figurine was very huge compared to the budget of an average Nollywood film. It was higher because the set was huge. I had a huge cast and crew. We moved from location to location which really gulped a lot of money in return: on logistics and catering for the welfare of the team."
However, with a lower budget, Afolayan said he can still achieve the same standard as Figurine.   Figurine parades top Nollywood stars like Ramsey Nouah, Funlola Aofiyebi-Raimi, Tosin Sido, Omoni Oboli and Muraina Oyelami. It was shot on 35mm,  not celluloid but digital, HD using 35mm adaptor and film prime lenses.
Afolyan said he is making efforts to release the film on DVD/VCD to give it a wider spread. "Figurine has costed me a fortune, over N50m. Right now, it had gone to the cinemas all over the world.  We are looking for a platform where we can sell more than a million copies. Once that is in place, we will not hesitate to release the film on DVD/VCD. The film has got good production value and picture quality that gives it an edge over other films, and also make it to appeal to the international audience.
Five awards won by Afolayan's "Figurine" during this year's AMAA included Heart of African Award for Best Film from Nigeria, Best Picture, Achievement in Cinematography, Achievement in Visual Effect, and Best Performance by an Actor in a Leading Role which was won by actor Ramsey Nouah.
Afolyan wondered why he did not win the AMAA Best Director Award, because,, "I see no reason the film that won theBest cinematography, Best picture and Best visual effects, the three key categories in film making, would not win the best directed film.  I'm glad at our victory at AMAA. I was really expecting to win the best director award but it did not happen," he lamented.
*Read full length of the interview next week.