By Bose Adebayo
Though many Nigerian house wives and food vendors may not have experienced  famine at any time,  but the prevailing difficulty in sourcing for the primary ingredients for providing needed meals for their variously families and customers may have left them wondering if that is presently the case in the country.
Indeed the sudden disappearance of some basic soup and stew ingredients like pepper, tomatoes and beef caught many of them unawares, especially when there was no prior indication from any quarter that such was in the offing. The scarcity, it has been found out, has nothing to do with the recent killings in Jos as some people have insinuated. Rather it is being attributed to the extortionist tendencies of some law enforcement agents whose greed has brought pains and agonies to many homes.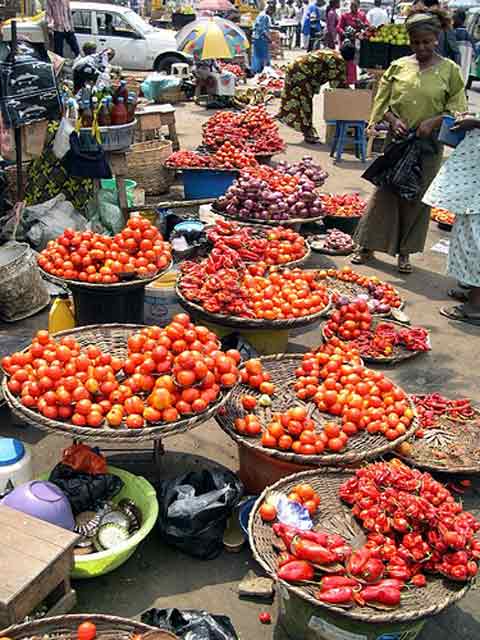 Problem started last Monday when most drivers who usually transport the products from the North to other parts of the country embarked on a nation-wide strike over what many of them described as multiple taxation and extortion on the part of some unscrupulous elements in the Nigeria Police Force and the Lagos State Transport and Management Authority, LASTMA.
The scarcity this engendered soon began to take a serious toll on the populace as it has presently sent some food vendors out of business, just as it also succeeded in stifling a lot of social functions that were billed for the weekend as the refreshment part of such celebrations popularly known as Item Seven was in most cases not as rich as expected.
"See what the scarcity have caused us. They said the drivers refused to lift the products for onward distribution to their consumers. Our guests could not eat the type of food they deserve even though we spent almost N200,000 to buy pepper," a newly wed who pleaded anonymity said.
Many cow and pepper dealers who bared their minds on the development said their major concern was the huge amount they pay to uniformed men who mount several  road blocks, especially in the South West part of the country. "This is nothing other than extortion; we pay more than we earn on the products," chorused Aliyu Ilya and Balarabe Dantata.
They told Vanguard Metro some of them pay between N50,000 and N100,000Â  per truck before the products arrive their various destinations. At Mile 12 Market, for instance, some retailers who spoke with this reporter said most of them belong to various groups which pay between N300 and N600 to motorists who convey them to their various destinations as soon as they buy the products from the market. The problem, they complained is that in most cases some of the drivers are arrested by policemen or LASTMA officials who will not release them until they part with an amount ranging between N10,000 and N50,000 depending on location.
"They charge the drivers based on locations. For instance, drivers from Ikotun, Iyana-Ipaja, Agbado-Ijaye, Oke-Aro, Sango, Oshodi and Mushin are asked to pay less than what drivers at Festac, Lagos Island, Apapa or Ikeja are asked to pay. The drivers are not finding it funny and have therefore threatened to increase their fares," Salimotu Enianfe informed.
At the Agege Abattoir, some butchers also complained bitterly of the said double taxation on the part of the state government. "Everybody knows we pay both legal and illegal bills as we carry out our business in this abattoir but the final consumers suffer it the more. That is why one hardly gets N100 beef in the market nowadays," said Ibrahim Azeez.
Although some traders expressed optimism the issues would be amicably resolved before the end of this week,  but they lamented the fact that they now have to travel as far as Republic of Benin to get pepper and tomatoes as a result of the scarcity in Nigeria. "We buy a basket at N17,000 and we pay a huge amount to transport our purchases to Nigeria," said Kafayat Orelope.
As a result of this, some food vendors said they have no choice but to increase their prices. "We have to increase our prices by 200 per cent, while some of us have stopped operating. A plate of food that normally goes for N200 is now N500. Many of us have stopped selling with stew, we now sell with egusi or serve jollof rice cooked with plenty of tin tomatoes," said Madam Ngozi Igwe.
A cross section of house wives said they now spend not less than N6,500 on a pot of soup with pepper gulping about 45 per cent of the said amount. This was confirmed during Vanguard Metro's tour of most markets at the weekend. In Lagos, the situation was worse at Ikotun, Festac, Surulere, Iyana-Ipaja, Ikeja and Sango compared with Oke-Odo, Idumota and Mile 12, although dealers of frozen foods, tin tomatoes, melon, crayfish and dried fish enjoyed the best patronage. Some Ogun, Oyo, Ekiti and Ondo residents who spoke with Vanguard Metro on phone said they were able to cope with the situation because of the presence of gardens in their locations.
"By now, a basket of pepper is supposed to be selling at about N1,500 but the extortion here and there has increased it to N10,000. I went to Mile 12 to buy pepper and tomatoes but was surprised when my customer told me to buy enough quantity that would last me for a week. Unfortunately I did not act on the tip-off  until the scarcity began. I went to Cotonou to buy a basket at N17,000 that I ordinarily would have bought at N10,000 at Mile 12. I sold pepper worth N1,500 to a woman and she burst into tears because she could not believe her eyes," Madam Ngozi added.