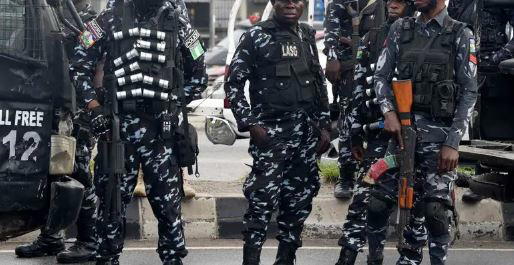 **Charges them to Court for falsehood, after Doctors confirm the organs are intact and active
By: Kingsley Omonobi – Abuja.
The FCT Police Command on Tuesday said it has arrested and charged 14 male suspects to court for falsely claiming that their male organs had disappeared prompting separate mob actions that would have led to the killing of innocent people.
Commissioner of Police, FCT, Haruna Garba who made this known, said, "The FCT Police Command has recorded over ten (10) cases of alleged disappearance of male organs across the Territory and the escalating incidents of mob action by irate youths.
"It took the intervention of the Police Command to prevent the loss of life and property and restore law and order.
"Fourteen (14) suspects who claimed that their male organ has disappeared were taken to the Hospital where the Medical Doctor confirmed that their male organs are intact and active.
"Consequently, they were charged to court for giving false information and inciting public disturbance.
While appealing to the residents of FCT to warn their wards and children to desist from raising false alarm, the CP enjoined the residents not to resort to jungle justice or mob action as innocent lives may be lost in the process.
Speaking on successes recorded by the command against criminal elements, CP Garba said police operatives from Kabusa Division acting on credible intelligence, trailed and arrested one Adamu Idris aka Idi, a wanted and notorious kingpin responsible for series of kidnapping around Galadimawa/Apo, Lokogoma and Kabusa axis.
"The suspect who was sighted at Okada junction Kabusa, took to his heels, was given a hot chase and apprehended by police operatives.
"During interrogation, suspect confessed to being a member of a 5-Man gang who are currently at large. Suspect is cooperating with the police to apprehend other gang members and will be charged to court soon.
"In a similar development in September, one Abubakar Usman of opposite Estate Galadimawa reported at Kabusa Division that two persons later identified as Auwal Wada and Suleiman Hassan of Galadimawa village threatened to kidnap him and his entire family if he failed to offer them Seven Million Naira (#7,000,000) ransom.
"However, an agreement was reached that he would pay five million Naira (#5,000,000). The police operatives from Kabusa laid a siege at the point of collection in a bush around Shereti village. The two suspects emerged to collect the ransom and were promptly arrested.
"This has been the modus operandi of the suspects as they have successfully robbed their victims in the past. The suspects will be arraigned in court soon.
"Also, Police operatives from Mabushi Division acting on credible intelligence trailed and arrested four (4) suspected armed robbers namely; Oluwatobi Precious (an ex-convict), Theophilous Elkana, Ibrahim Usman and Umar Ibrahim (ex-convict) close to Destination Hotel Bannex.
"Preliminary investigation revealed that suspects robbed motorists of their phones while on traffic jam around Mobil filing station, Mabushi and zoomed off in a getaway golf car.
Suspects confessed to the crime, while the said Golf car with Reg. No. DKA 288 RY, grey in colour, iphone 14 pro max and several ATM cards bearing different names and substance suspected to be cocaine were recovered from them. Suspects will be arraigned in court at the conclusion of investigation.
Furthermore, the CP disclosed that in the early hours of Tuesday, 4am, acting on credible intelligence, Police operatives from Mabushi Division carried out raid of criminal hideout at Gishiri Village where a total of thirty- six (36) bags of dried leaves suspected to be Indian hemp were recovered.
"In the same operation, one Bello Ahmed aka Wizzy Bola, a notorious and wanted armed robber terrorizing Gishiri Village and its environs was arrested. Suspect will be arraigned in court at the conclusion of investigation.
"Also, on September 26, 2023, in the spirit of synergy and collaboration the Brigade of Guards, Aguiyi Ironsi Cantonment Abuja handed over one Abdulrahman Abdulahi of Kaduna State to the Police Command.
"The suspect and six others reportedly robbed a residence in Mabushi district, after forcefully subduing the security guard and carted away properties belonging to the occupants including; 3 mobile phones, 4 laptops and a Mercedes Benz 2019 model black in colour.
"The suspects on sighting the military personnel took to their heels while one Abdulrahman Abdullahi was arrested. A locally made pistol, jack-knife and charms claimed to be bullet proof were recovered. The suspect is in custody assisting the Police on how to get others arrested."
"Police operatives from Apo Division also responded swiftly to a distress call that robbery operation was going on around Gudu market. On getting to the scene, it turned out that two (2) hoodlums identified as Onyedikachi Chukwu and Uche Obi were trying to rob a POS operator of his money.
"The two suspects were promptly arrested on the act and confessed to being members of black axe cult aka Aye confraternity. Two (2) locally made pistols with two (2) rounds of live cartridges were recovered from them. Suspects will be arraigned in court at the conclusion of investigation."