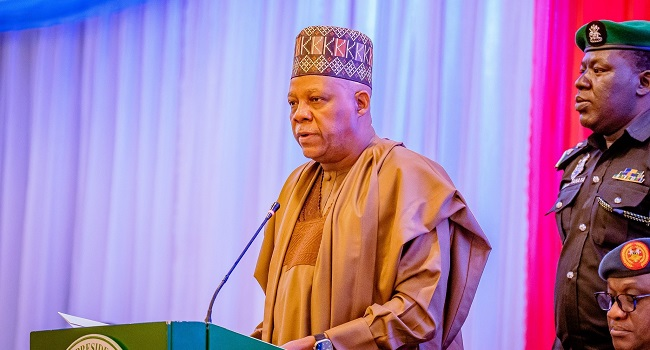 Shettima
Vice President Kashim Shettima is currently presiding over the National Economic Council (NEC) meeting in Aso Sock, Abuja.
The NEC meeting, which is held at the Council Chamber of the Presidential Villa, is the third edition under the Bola Ahmed Tinubu administration.
The meeting is attended by governors and deputy governors.
The governors of Osun, Lagos, Kaduna, Adamawa, Rivers, Benue, Sokoto, Delta, Ebonyi, Taraba, Nasarawa, respectively, and the Minister of the Federal Capital Territory, among others attended the meeting.
Meanwhile, The NEC meeting is coming up amid organised labour planning to declare nationwide indefinite strike on October 3 over what they called the government's "failure" to address the suffering of Nigerians through structured post-subsidy programmes.
Recall that, at its last meeting on August 17, NEC had approved a paltry N5 billion for each of the 36 states of the federation and FCT for procurement of food items and fertilisers as part of efforts to alleviate the suffering associated with fuel subsidy removal in the country.
Speaking after the meeting, Governor Babagana Zulum explained that the fund was part of measures to bring temporary solutions to the high cost of living caused by the subsidy removal as the government continued to work on more enduring programmes.
Zulum said the states were to purchase 100,000 bags of rice and 40,000 bags of maize, as well as fertilisers, among other items.
The Borno governor added that considering the urgent need to mitigate the effect of the skyrocketing food prices across the country, the federal government had earlier released five trucks of rice to each state of the federation.