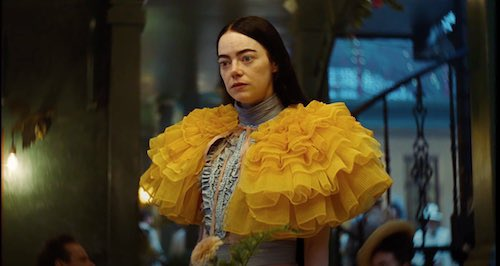 Emma Stone
With Emma Stone as a sexually voracious reanimated corpse in "Poor Things" and Wes Anderson presenting his take on Roald Dahl, the Venice Film Festival was taken on some wild rides on Friday.
"Poor Things", a hilarious and strongly feminist reworking of Frankenstein, was labelled an "instant classic" by critics.
As Bella, a woman brought back to life with an infant's brain by a mad scientist (played Willem Defoe), it features some of the most explicit sex ever seen in an A-list Hollywood film as her naive character discovers — and very much enjoys — her sexuality.
Stone was unable to attend the festival due to the ongoing actors strike in Hollywood, but director Yorgos Lanthimos said she fully embraced the role.
"The character has no shame and Emma had to have no shame about her body, nudity, engaging in those scenes. She understood that right away," he told reporters.
But he said an intimacy coordinator proved very useful.
"In the beginning (they) felt a little threatening to most filmmakers but I think it's like everything: if you work with a good person, it's great and you realise you actually need them," Lanthimos said.
The film brilliantly skewers the way men try and fail to control the innocent Bella — triggering bursts of spontaneous applause and riotous laughter from the audience in Venice.
Lanthimos is known for visually ingenious and pitch-black comedies, but goes even further here with a steampunk vision of 19th century Europe and surreal touches like the duck-goat and pig-dog that roam the scientist's home.
His previous film "The Favourite", also starring Stone, won the Jury Prize in Venice in 2018 and best actress for Olivia Colman, paving the way to her Oscar triumph.
"Poor Things" is an early favourite among 23 movies competing for the top prize, the Golden Lion, to be awarded on September 9.
The Guardian had one of several five-star reviews and said Stone gives "a hilarious, beyond-next-level performance", while Total Film called it a "funny, sad, bawdy, beautiful concoction that will haunt and provoke in equal measure."
– Anderson's Dahl –
Meanwhile, another indie darling, Wes Anderson, was feted in Venice with a lifetime achievement award and presented "The Wonderful Story of Henry Sugar", a 40-minute film based on a short story by beloved children's author Roald Dahl.
The highly theatrical tale is one of four Dahl adaptations the whimsical director has made for Netflix featuring Benedict Cumberbatch, Ben Kingsley and Ralph Fiennes.
The director, who previously adapted Dahl's "Fantastic Mr Fox", said he was strongly against moves to alter the author's books, which have seen words like "fat" and "crazy" removed for "sensitivity" reasons.
"No one who is not an author should be modifying someone's book," Anderson told reporters.
He added: "I understand the motivation for it, but I'm in the school where, when the piece is finished… the audience participates in it, we know it, so when it's done, it's done."
– Strikes and waivers –
Also premiering on Friday was "The Promised Land" starring Mads Mikkelsen, described by The Hollywood Reporter as a "gripping historical epic" about a low-born soldier seeking to better himself.
Mikkelsen was able to attend the festival for the Danish film, but Venice has lost out on several star appearances due to the actor and writer strike in Hollywood, which is primarily over pay and the potential threat of AI.
Still to come in Venice are new movies by Sofia Coppola ("Priscilla" about Elvis Presley's wife) and David Fincher ("The Killer" starring Michael Fassbender and Tilda Swinton).
There are also out-of-competition premieres for controversial directors Woody Allen ("Coup de Chance") and Roman Polanski ("The Palace").