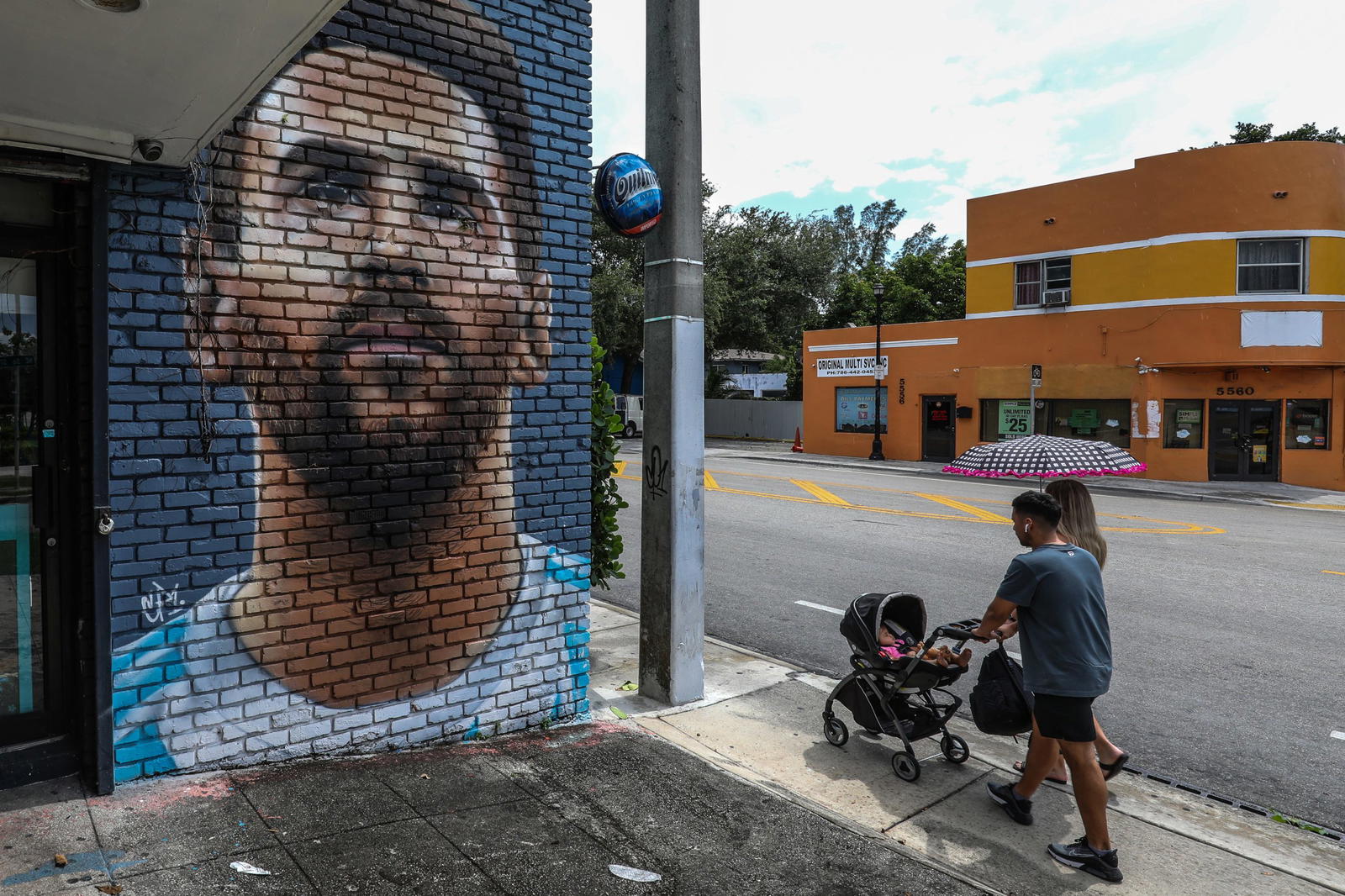 People walk in front of a mural depicting Argentine football player Lionel Messi in Miami on June 7, 2023. – Lionel Messi on Wednesday announced he will sign for Major League Soccer side Inter Miami, choosing the United States as his next destination over a Barcelona reunion or blockbuster deal to play in Saudi Arabia. (Photo by Giorgio Viera / AFP)
Barcelona coach Xavi Hernandez said Thursday he understood Lionel Messi's desire to avoid the "pressure" of a return to the Catalan giants this summer.
Messi, 35, announced Wednesday he will play at American side Inter Miami in Major League Soccer after ending his two-year spell at Paris Saint-Germain.
The Argentine playmaker, a seven-time Ballon d'Or winner, had options to return to the Catalan club where he carved out his legacy, or take a megabucks move to Saudi Arabia.
"He hasn't had a good time in these two years (in Paris) and now he doesn't want that type of pressure," Xavi said on Twitch.
"It's a personal decision and the circumstances didn't help, but the decision is Leo's and we have to respect it, he's the best in history."
Xavi said he had spoken a lot with Messi over the past few months but he noticed "a change" over the past few days.
"Maybe he didn't see it so clearly, and you have to respect that — many times we don't put ourselves in the shoes of others, we lack empathy and being Leo can't be an easy thing," said Xavi.
"Imagine Messi, in the focus he's got on him, he's never got calm, he has to behave perfectly, he has to be perfect on the pitch, he has to be the best in every way."
Messi, who arrived at Barcelona as a 13-year-old and went on to become the best player in the club's history, was forced to leave in 2021 with the club's financial situation preventing them giving him a new deal.
The forward, who won the World Cup in December 2022 with Argentina, was jeered by PSG fans after the team were eliminated in the Champions League last 16 for the second year running.
"Excitement was generated because we were both talking, we talked a lot, we were all excited — first him, then me and then the club," added Xavi.
"A lot of the time you want something but the circumstances don't help, he explained it very well.
"He wants to lower the level of pressure, and if he returned here, it would be straight back to 10 out of 10."
Messi said in an interview with Spanish media that he was afraid Barcelona's economic situation might make a return difficult and he didn't want to run the risk of reaching the end of the summer without a club.
The player also admitted he was looking forward to enjoying his life more in Miami, while still giving his all to his new side.
"I want to enjoy myself again, spending time with my family, day to day," said Messi.
"I'm in a moment where I want to go out of the spotlight a bit, think more about my family."