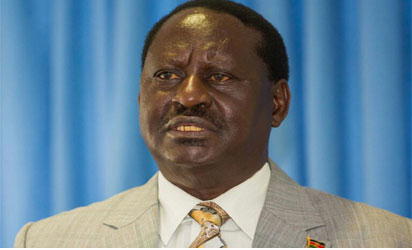 Odinga
By Biodun Busari 
Kenyan opposition leader Raila Odinga has called for the intervention of the International Criminal Court (ICC) over the alleged "killing and maiming" of his supporters by the police.
Odinga, who contested against President William Ruto made the call as an official signal to sustain a long-drawn confrontation with his rival's administration, local media reported.
Azimio coalition established by Odinga has offered details of nine individuals it believed were killed by the police, including a policeman who was run over by a police vehicle, during the now suspended mass action.
The coalition also enumerated some opposition supporters and journalists allegedly injured by the police during the protests, a Kenyan newspaper, Nation said.
In the letter, Odinga, through his lawyer Paul Mwangi, implored ICC Prosecutor Karim Khan to submit detailed information on the current situation in Kenya to the court's pre-trial chamber for authorisation of investigations.
The coalition also listed an alleged special squad of police created by Inspector-General of Police Japhet Koome to unleash terror on its supporters in the letter that was dispatched on Friday.
Nation reported that the Azimio coalition accused Koome of breaching the Constitution by declaring the protests illegal.
Odinga, in a recent public address, talked of his visits to hospitals where he witnessed several youths nursing gunshot wounds allegedly inflicted by the police.
He bemoaned the lack of action by the authorities in punishing officers involved in maiming and killing innocent supporters, adding that the police officer knocked over by a police van was his relative. 
"The suspect, Japheth Koome, has abrogated the constitutional rights of members of Azimio la Umoja One Kenya coalition party members and contravened the Constitution of Kenya by usurping powers of the Judiciary and pronouncing a ban on any exercise of the rights under Article 37 by members the coalition party.
"On April 3, 2023, at 1630 hours around the Pipeline area of Embakasi South Constituency in Nairobi City, a contingent of police officers approached the motor vehicle in which the Azimio la Umoja One Kenya coalition party leader Raila Odinga was being ferried and fired approximately 10 rounds of live ammunition with a clear intention to kill him," the letter stated.
"A report of the attack was made the next day and a complaint was lodged the same day, but no action was taken. Prior to this assassination attempt, the Deputy President of the Republic of Kenya had publicly stated that it was necessary that Raila Odinga be 'dealt with' and 'removed' permanently," it added.