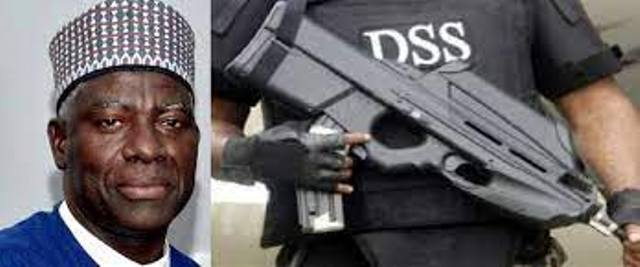 John Alechenu, Abuja
In better-organised societies, intelligence nay security agencies, behave differently when the cooperative existence of the state is being threatened. In September 2022, based on credible intelligence, the German Police initiated a surveillance operation targeting initial 52 suspects identified as members of the Reich Citizens Movement engaged in a plot to topple the German government.
Reports said over 3,000 police officers were involved in the operation to arrest the conspirators.
In the end, 23 suspects were rounded up in a nationwide raid. Extradition requests for two suspects was sent out for their arrest after they fled to Italy and Austria respectively.
The operation became public knowledge only after arrested suspects appeared in court with persecutors giving out details of the plot.
This is most often than not, not the case in Nigeria. In what is fast becoming a norm rather than an exception, Nigeria's secret police, the Department of State Services, has again raised the alarm over what it described as a subversive plot by misguided political actors to derail democracy.
This time around, the Service announced that it had not only uncovered a specific plot to truncate the swearing in ceremony of the President-Elect, Ahmed Tinubu and foist an interim government, it had also identified some of the major players in the bizarre plot.
A statement signed by the Spokesperson of the Service, Dr. Peter Afunanya, on Wednesday read, "The Department of State Services (DSS) has identified some key players in the plot for an Interim Government in Nigeria.
"The Service considers the plot, being pursued by these entrenched interests, as not only an aberration but a mischievous way to set aside the constitution and undermine civil rule as well as plunge the country into an avoidable crisis.
"The illegality is totally unacceptable in a democracy and to the peace loving Nigerians. This is even more so that the machination is taking place after the peaceful conduct of the elections in most parts of the country.
"The planners, in their many meetings, have weighed various options, which include, among others, to sponsor endless violent mass protests in major cities to warrant a declaration of State of Emergency.
"Another is to obtain frivolous court injunctions to forestall the inauguration of new executive administrations and legislative houses at the Federal and State levels.
"The DSS supports the President and Commander-in-Chief in his avowed commitment to a hitch-free handover and will assiduously work in this direction.
"It also supports the Presidential Transition Council and such other related bodies in the States. It will collaborate with them and sister security and law enforcement agencies to ensure seamless inaugurations come 29th May, 2023.
"Consequently, the Service strongly warns those organising to thwart democracy in the country to retract from their devious schemes and orchestrations.
"Stakeholders, notably judicial authorities, media and the Civil Society, are enjoined to be watchful and cautious to avoid being used as instruments to subvert peace and stability of the nation.
" While its monitoring continues, the DSS will not hesitate to take decisive and necessary legal steps against these misguided elements to frustrate their obnoxious intentions."
As is to be expected, the DSS alarm has elicited interest among political parties and Nigerians from different walks of life.
Chief Spokesperson for the Labour Party, Dr. Yunusa Tanko, in response noted that while the DSS deserves commendation for operating under difficult conditions, it needs to be even handed in dealing with issues of security.
He asked the DSS to go beyond raising alarm to taking action in line with its constitutional role as a security agency for all Nigerians not just a section of it or for individuals.
Tanko queried what he described as the "soft spot" the service has for members of the ruling All Progressives Congress in its attempt to appear pro-active on issues of national security.
He said, "Where was the DSS when Labour Party Supporters were being attacked, maimed and killed in Lagos?
"Where was the DSS when MC Oluomo openly threatened Nigerians and actually over saw the execution of his threats on fellow Nigerians who did not speak his language or share his political beliefs during the last elections in Lagos?
"The right to embark on peaceful protests and seek legal redress on electoral matters is guaranteed by our constitution.
"Only the courts have the powers to determine whether an order being sort is frivolous or not, it is not part of the duties of the DSS, with all due respect.
"For us in the Labour Party, we will continue to remain law abiding because our desire is to deepen democracy to enhance good governance. We do not subscribe to anti-democratic practices in any shape or form, we are democrats."
Speaking in a similar vein, a public policy expert and an ardent supporter of the Presidential Candidate of the Peoples Democratic Party, Atiku Abubakar, Prof. Usman Yusuf, expressed disappointment that the foremost international intelligence gathering agency would resort to scaremongering when it should be taking action to restore public confidence in the system.
Yusuf, who spoke in an interview on an Arise Television Morning Breakfast Show, noted that the statement issued by the agency was not tactful.
He said, "These are merely allegations they presented without evidence. We salute the DSS for their service to the nation. We are in very difficult times which require wisdom and I didn't see wisdom in that statement.
Yusuf argued that what was required at a time like this when millions of Nigerians are aggrieved following the outcome of the election, is for service to take actions that would calm nerves not increase tensions.
According to him, "What we want to hear is what you've done. The End SARs protest was basically a product of intelligence failure."
Also an Anchor on the breakfast Show, Rufai Usaini, also took issue with what appears to be the preferential treatment given to those who threaten the nation's corporate existence in word and deed as long as they belong to the ruling APC.
He said, "We want the DSS to act on it (the said plot), we want safety and security for our country. When threats were made in Lagos what did the DSS do about it? Because we we forget in a hurry what happened in Lagos. MC Oluomo made threats and those threats came to be.
"The position that was taken by the (Lagos) police chief was that MC Oluomo made a video that he was just joking about mama Chukwudi. There was wide spread violence as was threatened hitherto.
"The question is, the DSS should be holistic and ought to look at other parties and not picking and choosing."
He also recalled that it was the same DSS which invited an APC Chieftain, Femi Fani Kayode for alleging that a coup plot was in the offing but had no evidence to substantiate his claim.
He noted that it was curious that the same security agency was now towing the same lane by raising an alarm of a plot.
However, a Bauchi State chieftain of the All Progressives Congress, Abdullahi Dauda said it would be unfair for anyone to crucify the DSS for doing its job.
Dauda said, " We must not give political meaning to every action taken by agencies of government especially when the security of lives and property is involved.
"It is simple common sense that when you are notified that a thief is coming to your house you take deliberate steps to stop him or her. I believe what the DSS did was to alert the nation of the existence of a plot so that Nigerians who have additional information can make such available to assist in investigation.
"It also serves the purpose of warning those involved in such a plot to abandon it because they've been exposed.
"No matter our political or religious bias, we all agree that Nigeria is ours to build and we must not allow this democracy to collapse.
"We must all allow the court make a final pronouncement on the outcome of the election and not take the laws into our hands."