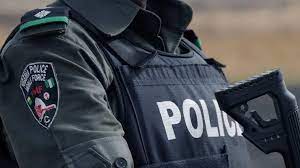 …police harass, threaten journalists with arrest for being on duty
…94 years old Esogban of Benin votes
…Obaseki votes, exudes confidence decry low voters turnout
By Gabriel Enogholease and Ozioruva Aliu
THERE was massive voter apathy in virtually the entire three senatorial districts of Edo State as the people voted for members into the state house of assembly amidst very tight security in every major road especially in Benin City the state capital.
Many of the security operatives from the police, army and the Nigerian Security and Civil Defence Corps (NSCDC) were civil except a squad led by the second in command Mopol who identified himself as simply CSP Isah but was with men without name tags who prevented journalists from carrying out their duties and threatened to arrest them including a Vanguard Reporter for driving in convoy. Despite the journalists showing the officer their Independent Electoral Commission (INEC) accreditation tags, he insisted they were on illegal duty since they did not have pass and police escort. When informed, the Police Public Relations Officer, Chidi Nwabuzor simply said "noted".
Obaseki votes, says "I am the governor of the state"
At Emokpae Primary School where Governor Godwin Obaseki voted, the turnout was also low and he attributed the low turnout to heavy presence of security who he said were scaring away voters.
Obaseki exuded confidence that his party, the Peoples Democratic Party would win massively into the 24 member state house of assembly particularly his unite and ward.
He appealed to security agencies monitoring the election to relax the security barricade across Benin City, to allow voters move to their polling units to exercise their franchise, bemoaning the low turnout of voters.
The governor who cast his vote after his wife Betsy Obaseki, who voted at about 10:14am, described the turnout as the worst in the centre.
He noted that INEC moved some voters to polling units far away from their houses, which discouraged many from voting.
He said "I am the governor of Edo State ", Obaseki declared, smiling, when proded about his hope of winning his Unit 19 polling centre, which he lost to the Labour Party on February 25.
According to him "This is not the set of turnout we find or get in elections in this centre. Clearly the extreme security measures that have been taken should be relaxed. As you can see, there is a total lockdown of the city which is not allowing people to come out to exercise their franchise.
"Yes, it is important that we have security. But it cannot be this overwhelming because, this overwhelming presence of the security men across the city is a deterrent and scary for most people to stay in.
"If you recall some people's polling units have been moved away from where they live, therefore, they may not be able to work through their polling units and will need to drive. With the kind of barriers and barricades put across the city, clearly people will not be able to get to their polling units.
"So, I am appealing to the security agencies, while having their eyes and maintaining tight security, they should – when people have proof for instance they have their Permanent Voters Card (PVC) and want to vote – be allowed to exercise their franchise so that we can allow more people to come and vote.
"We are encouraging Edo citizens to come and vote as there is adequate security. I have just spoken to the police authority and security agencies to allow those who want to vote and have proof of their PVCs to vote", Obaseki appealed.
I have been voting since 1951 – Edebiri
The 94 years old Esogban of Benin, Chief David Edebiri voted at Unit 19, Airforce Primary School where he said he has never missed any election since he casted his first vote in 1951 as a 22 years old young man.
He said the February 25th presidential election was the best he has ever witnessed but said the huge turnout in that election was a fluke.
He said "I am here to vote as I did 2 weeks ago. It will interest you to know that I started voting at the age of 22 in December 1951 in the regional election to the house of assembly elections at Ibadan. We were then part of Western Region. Since then I have not failed to vote in any election be it national or sub-nationals.
"I thank God I am alive to vote in this election.
"Some of the things that happened in the last two weeks was just a fluke. Those who voted were not members of the party, they came for a certain purpose to make some statements and when those statements failed, their interests died. February 25 election was the best I have seen and taken part in since 1951."
Edo North
In Edo North, it was the same voter apathy that characterized the exercise despite INEC officials arriving in some areas as early as 7:30 am.
At Unit 7, Ward 3 in Igiode Community, the polling units of the incumbent Senator, representing Edo North Senatorial District, Francis Alimikhena, accreditation and voting started at about 8:45am even as the turnout was low.
Usagbe Primary School, Othame Community in Etsako East Local Government Area where Unit 10, Ward 3 is located, the situation was worse as INEC staff were seen waiting for voters to come from their houses to vote.
There was also low turnout of voters at the Polling units in Ayogweri town in the area, while the situation was different in Iyamho Primary School, the voting place of Comrade Adams Oshiomhole where there was large turnout of voters.