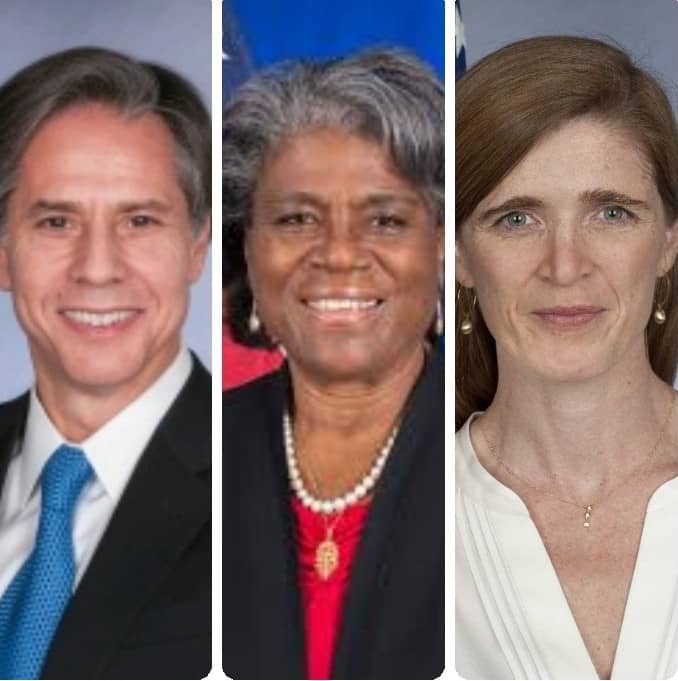 US Secretary of States, Anthony Blinken; the US Ambassador to the United Nations, Linda Thomas-Greenfield and US Agency for International Development (USAID) Administrator, Samantha Power
By Biodun Busari
The United States has said that Nigeria's 2023 general elections slated for February 25 and March 11 are not only important to the survival of Nigerians but also matter to the rest of the world.
In a 58-second solidarity video received by Vanguard, the US also reiterated that it does not have any preferred candidate in the elections, but would throw its weight behind the people of Nigeria participating in peaceful elections.
These were made known in the video in which the US Secretary of State, Antony Blinken; the US Ambassador to the United Nations, Linda Thomas-Greenfield and US Agency for International Development (USAID) Administrator, Samantha Power, addressed Nigerians.  
According to the US top officials, the Nigerian populace has the opportunity to create a better future for the country by participating in free and fair elections.
"Nigeria's constitution like America's begins with a simple and profound idea, we the people. And during this election, you the people of Nigeria have a chance to make your voices heard to choose your future," the US officials said.
They said a free and fair election in the most populous African nation will produce a freer and fairer world.
"The United States does not support any individual for office, but strongly supports a peaceful election that reflects the will of the people of Nigeria, because free and fair elections in Nigeria help create a freer and fairer world for everyone.
"Your vote matters, this election matters, not only to Nigerians but to the rest of the world. We've invested in your success. Our shared democratic futures depend on it."
"Go to INECNigeria.org to prepare your vote because your voice matters. The Nigerian people have a friend and partner in the United States of America," they added.