Penultimate Sunday saw me dashing off to Cross River State for the very first time in my life. The journey was not about Governor Dave Umahi of Ebonyi State, but it turned out to be everything about him and money.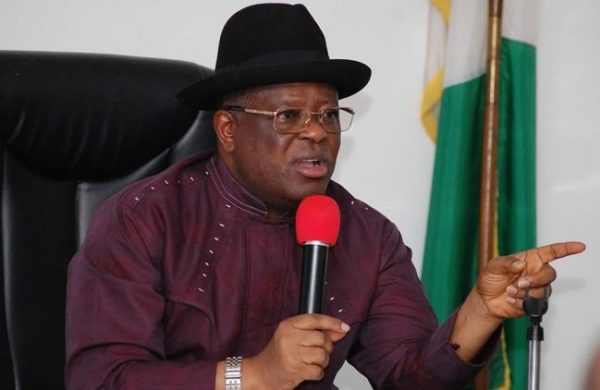 There was an accompanying Mobile Police Inspector. I must confess that all my life, I have seen very few superior cops with better command of the English language. This MOPOL from Akwa Ibom State, who lives in Owerri spoke so highly of the Ebonyi helmsman that I picked interest.
We left Imo and our bad roads, meandered through dangerous Abia route before hitting Ebonyi. The last time I visited that part of the East was in 1979.
The Police Inspector described Umahi as one governor who is making a lot of difference. Through him I got to know that the Ebonyi leader saves so much money for the state through direct labour in the construction of roads and other infrastructure.
And I must confess that I was impressed. Ebonyi is working, this is my message to Nigerians especially the Igbo. I saw well constructed roads. I saw fly-over bridges in areas that may not be called big cities.
I passed through places like Amasiri, Akaeze, Ishiagu, Isiaka, Akaeze, Edda and Abomege Junction. I will talk about Abomege as we progress. People who want to know the real meaning of retributive justice must be told about Abomege.
The problem with Umahi is that some contractors are not happy with him. As a Civil Engineer, he knows all the tricks about construction. He was a contractor himself and understands all the under hand deals. You do not go to him with bloated figures.
He has saved so much money for the state. Ordinarily, the average contractor would want to make maximum profit. Umahi allows contractors to make enough profit and still keep his state breathing.
And this is a man who is known with money. He is such a free giver that that there is a popular song: "when you meet Dave, you meet money."
The governor has remixed the track. It is now: " When you meet Dave, you meet work and when you do that work, you meet money."
The truth is that Ebonyi State is not one of the high earners from the federal purse. With the little available, Umahi seems to be opening a new chapter, from Abakaliki to Afikpo.
The man is full of ideas. He wants to build the best teaching hospital in Nigeria. An airport is under- way as well as a first class stadium. He must really be missing Abakaliki White Angels who had little respect for the white jerseys of Enugu Rangers in the old East Central State.
Now, I do not want anyone to tell us that  you only see fly-over in Lagos,  Abuja, Onitsha, Awka, Ijebu Ode, Otta and Kaduna. In Ebonyi, you are going to see it everywhere. He is really developing the state.
Umahi plans to dualise the Abakaliki-Afikpo road. He is also doing the same to the Enugu –Abakaliki road. To his eternal credit, there are over 1,000 Kilometres of solid roads.
And these are durable roads because as an engineer, he knows more than some money-making construction companies. Umahi does not do asphalt.
Concrete is the attraction and thickness must be at least, eight inches.
Jobs are being created in Ebonyi. The Nkalagu Cement company, Nigercem, is ready to produce again. Ibeto Cement is the new name. The state government holds 10 percent shares.
I celebrated 2016 Yuletide with Ebonyi rice. Honestly, I do not want to eat anything outside the rebranded Abakeleke rice. My inability to get it handy in Lagos is what the governor should look into. People are relocating to Ebonyi to grow rice.
To the people of the South–East, this is calling on you all to think home. There is enough land to do business in Ebonyi. While some erstwhile friendly states have become hostile, the opportunity to relocate is here.
And I am happy that Umahi is the chairman of the South-Eat Governors Forum. Time has come for all of them to come together for good. I have said it here, they are experienced. This is what makes the difference.
Umahi did not just jump into Government House. He was deputy governor. His combination with other governors from the geo-political zone, should be to the advantage of the people.
Incoming Imo governor, Emeka Ihedioha, was Deputy Speaker of the House of Representatives. The people are waiting for a new era. The South-East must be made viable by the leaders.
And security is key. I shall task Umahi with this one. His elder brother, Major General Obi Abel Umahi, retired as a General Officer Commanding[GOC] of 81 Division, Nigeria Army.
There should be a security committee for the entire geo-political zone. I do not mind a man like Lt. Gen. Azubuike Ihejirika as the chairman of the committee. I also recommend Maj. Gen. Emeka Onwuamaegbu , Gen. Umahi and Sir Mike Okiro, an Egbema man, as members of the committee.
That brings me back to Abomege. It was here that Lt. Col. Bukar Suka Dimka was arrested by Police Constable, Jika Iyah in 1976 as he tried to escape to Cameroon after the assassination of Gen. Murtala Mohammed.
Dimka was a murderer and drunk who killed so many Igbo during the July 1966 counter coup. The man trained in Australia and was commissioned in 1963, with an Igbo officer, Boniface Ikejiofor, but did not spare the Igbo.
He was spotted by bus driver, Mathew Nga, who reported him to Iyah. Dimka first ran to  Chief Chukwurah's Abatete home before he was chased away by Chief Mbazulike Amechi.
Dimka moved to Afikpo, checked into Friendship hotel and found warmth in an Igbo girl. The bubble burst, he hurried away and when he thought it was over, Nga gave him away.
I just wish Umahi would turn Abomege  Junction to a tourist attraction. Nemesis is real.