•Kidnappers, terrorists, thugs, killer herdsmen unleash mayhem on Nigerians
By Charles Kumolu, Deputy Features Editor
If you are living in the northern part of Nigeria, chances are that you may either be killed by kidnappers, terrorists, killer herdsmen or bandits.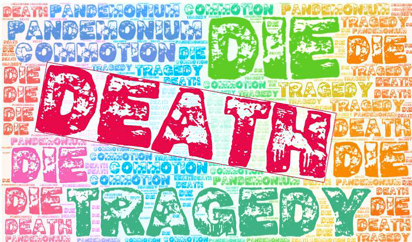 Those in the South-East are faced with the dangers of either dying in the hands of kidnappers or killer herdsmen.
In the South-West, thugs, armed robbers and ritualists daily send people to their early graves.
The reign of robbers, kidnappers, cultists, and political thugs frequently result in untimely deaths in the South-South.
These are not alarming tales but the true picture of the current security situation across Nigeria's 36 states.
Daily, people lose their lives to preventable deaths.
From the disorderly scenes in Lagos to the rustic communities in Anka local government area of Zamfara State, the stories are not different.
No matter whom you are and the level of your carefulness, the harbingers of death could strike anywhere.
Even places of worship are not revered by the perpetrators as witnessed in the killing of a Catholic priest in Enugu recently, and a similar incident in Benue State last year among others.
Fearlessness of perpetrators
Just the way the knights in T.S Elliot's Murder in the Cathedral, who broke into the Cathedral and killed Archbishop Becket were unfazed, these angels of deaths abduct priests from churches who they eventually kill unchallenged.
Mosques are also easy targets for the daredevils. Nowhere and nobody are currently safe.
https://www.vanguardngr.com/2019/03/edo-distributes-relief-materials-to-flood-victims-in-5-lgas/
Surprisingly, the incidents happen in manners that question the usefulness of the Federal Government, whose primary function is to provide security and welfare of the citizens.
At the same time, the scale of the violence could make anyone wonder if security agencies had abdicated their responsibilities.
In addition, the fearlessness of the perpetrators across the country calls to question the capacity of the security agencies at containing this spreading insecurity.
Saying that the situation is hopeless is, to say the least.
Government and its supporters may argue to the contrary but Nigerians are fast losing confidence in its ability to protect them as enshrined in the 1999 Constitution (as amended).
Last nine days
For instance, no one would consider last week's killings in Zamfara, Kaduna, Anambra, Borno   Ebonyi, Lagos, Rivers, Katsina and Ondo, and feel comfortable about the security situation in Nigeria.
Perhaps, those who may dismiss this observation still reside in Nigeria of the past when human life was not worth one for a penny.
At the last count by Sunday Vanguard, 144 people were killed by herdsmen, cultists, kidnappers, Boko Haram, communal fighters and armed robbers in the last nine days.
The breakdown is as follows: Katsina, 33; Borno, five; Kaduna, 22; Anambra, six; Benue, 25; Taraba,10; Rivers,21; Ondo, seven; Ebonyi, eight, Abuja, one; Delta, three; and three in Lagos.
Painfully, the response to this reign of terror hardly extends beyond official condemnations and condolences, after which life goes on quickly.
It is common to hear assurances of finding perpetrators and holding them accountable but they are just mere expressions from high places.
Such pronouncements mean nothing to the killers, who return to strike harder after each operation in what has become a vicious cycle.
The incidents of the last nine days suggest the problem is now acute in Nigeria with prospects of continuing unabated.
Katsina: Reign of bandits
Between last Monday and Tuesday, no fewer than 33 persons died in three local government areas of Katsina State, 11 out of whom were armed bandits killed by villagers.
https://www.vanguardngr.com/2019/04/area-boys-fight-leaves-two-dead-in-lagos/
Information gathered by our correspondent from Sabuwa and Batsari local government areas of the state revealed that 18 were killed in a clash that ensued between members of a vigilante group and armed bandits while another four were killed by bandits.
Lagos: Hoodlums on the rampage
In Lagos where a medical doctor was recently killed by hoodlums on the day of his convocation, social miscreants, otherwise known as 'Area Boys', clashed, last Wednesday, at Fadeyi area, leaving two persons dead.
The Director, Lagos State Fire Service, Rasaki Musibau, and six others were also abducted by gunmen within the period under review. He was kidnapped at Iwoye bridge end of the Itoikin-Epe Road. It was learned that the axis had become the new den for kidnappers lately after abducting Ikosi-Ejirin council chairman, Mr. Ajijedidun Samson Adebisi, and Vice Chairman of Lekki LCDA, last month.
Kaduna: A killing field
In Kaduna, two policemen were killed when their station was attacked by bandits. The gunmen also attacked Kakangi village in Birnin Gwari. It was gathered that the bandits descended on the village and began shooting into the air before torching some houses. Scores were said to have been killed, although the exact figure could not be ascertained.
Last Monday, at least 20 people were killed in a fresh attack by suspected herdsmen in Anguwan Aku village, Kajuru local government area of Kaduna.
Several others were said to have sustained injuries in the attacks. The incident, according to a resident of the community, took place around 7am last Monday.
Ebonyi: Familiar crisis
Ebonyi State Police Command, last Sunday, confirmed the killing of eight persons, including a three months baby, in a renewed boundary dispute between two communities in the state.
While six of the victims, who were said to be from the same family, were burnt to death in a bus they were travelling in, two others were killed from bullet wounds they sustained from the attack.
The attack happened along the Alex Ekwueme Federal University Ndufu Alike Road near the border between the two communities. Police spokesperson in the state, Loveth Odah, who confirmed the attack, said the incident happened on April 6, 2019.
Rivers: Cultists, thugs kill at will
Last Sunday in Rivers State, five persons were allegedly killed in a renewed cult clash in Rumuche and Rumuohia communities, Emohua LGA, and seven victims in Kaani Babbe community, Babbe District of Khana LGA of the state. Many others sustained bullet wounds when some cultists clashed in Mgbuodohia community, Rumuolumeni clan, Obio/Akpor local government area of the state. On Wednesday, in Choba community, Obio/Akpor local government area of the state, over 16 boys engaged policemen in a gun battle as one Shedrack was gunned down in the area by unknown persons, in the early hours of the day.
Just yesterday, seven persons were feared killed as cultists stroke again in different parts of the state.
It was reported that four persons were killed and beheaded in Omuoko, Aluu Community in Ikwerre Local Government Area – a source gave the names as Rhino, Justice Azubuike, Nwobueze Eric Woke, and one other victim.  It was learned that Azubuike, had just got admission into Ignatius Ajuru University of Education, Iwofe, Port Harcourt, before the incident. The source said the bandits invaded the area with heavy gunfire, shooting sporadically without interference from security operatives.  Also in Rumuekini in Obio-Akpor LGA, of the state, an electrical and generator repairer was killed at his home at close of work. In a related development, gunmen trailed and killed the Community Development Committee Chairman of Rumuodogo 1, Community, Emohua LGA, Mr. Eze-otto Ishmael. He was killed in Rumuaghorlu Community, 7pm, by unknown gunmen. One of the children of the late CDC chairman, Ovundah Eze, narrated that his father has being receiving threat calls from some group of cultist in Emohua LGA, stressing his late father reported same to security agencies.
Also it was gathered that a middle aged man was killed around 9pm by unknown gunmen who ride on black Toyota  car around Okuru junction within Abuloma, Port Harcourt City LGA. The Public Relations Officer of Rivers State Police Command, DSP Nnamdi Omoni said: "I heard about the incident in Aluu (Ikwerre LGA), but I am yet to get the full details of the incident. That of Aluu is confirmed. I have not been told about that of Obio/Akpor."
— Davies Iheamnachor
Ondo: Return of bank robbers
No fewer than seven persons, including a police inspector, were killed as dare-devil armed robbers stormed a new generation bank in ldo-Ani, Ose council area of Ondo State. Two bankers and four bank customers, who reportedly met at the Automated Teller Machine, ATM, section of the bank, were killed. –
Anambra: Killer herdsmen on the prowl
In Anambra State, suspected herdsmen, last weekend, stormed a farm settlement at Mmiata Anam, Anambra West local government area of the state, killing six persons and inflicting severe wounds on 30 others.
The state Police Public Relations Officer, PPRO, Mr. Mohammed Haruna, however, said, in a telephone interview, that only three people were killed during the attack.
One of the survivors said, "The herdsmen stormed the Agweopia Farm Settlement Camp and Iyinkolo Farm Settlement Camp respectively, around 5.40a.m on Friday, killed people and burnt houses and raped women and escaped before information reached the people in the community."
Borno: No respite
The killings in Borno State have showed no respite, as no fewer than five persons were killed while 46 others sustained various degrees of injuries when Improvised Explosive Devices, IED, were triggered at popular Muna Park, Maiduguri.
Two female suicide bombers detonated IEDs vests strapped to their bodies in a crowded place at Muna-Dalti area of Maiduguri on penultimate Saturday night.
Taraba: Return of deadly clashes
In Taraba State, Chairman of Wukari local government area of the state, Mr Daniel Adi, confirmed, last Sunday, that 10 people were killed and several others injured in the ongoing clashes between Jukun and Tiv ethnic groups.
In an interview with newsmen in Wukari, Adi, who sued for calm, disclosed that more than nine communities had been razed and displaced from the Kente ward of the affected area.
Abuja: Land dispute claims 1
Tragedy struck last Thursday in the nation's capital, following a fresh clash between soldiers and Abuja natives over land at Tungan-Maje on the outskirts of the Federal Capital Territory.
As a result of the incident, one person was confirmed dead while four others were injured.
It was gathered that the piece of land in contention was being occupied by the original indigenes of the area.
Delta: Herdsmen strike again
Three youths were killed by suspected herdsmen last Wednesday in Abraka, Ethiope East Local Government Area of Delta State.
25 persons were reportedly killed in a conflict between Tiv and Jukun communities in Benue and Taraba states
The crisis, which was started, last week, by a minor disagreement between two friends of Tiv and Jukun extraction, ignited a major communal conflict between the people of Atsenga in Ukum and Kente in Wukari local government areas of both states, leading to the death of the 25 persons and the razing of over 300 houses, cars, motorbikes and farmland.
Though government of both states were said to be making concerted efforts to have the matter resolved, the crisis crept into border communities including Vaase in Ukum local government which armed men in black clothing reportedly invaded killing scores.