By Donu Kogbara
FOR nearly a decade, Imo State has been at the mercy of their APC Governor, Rochas Okorocha, perceived as a bombastic bully. Okorocha has inflicted all manner of outrages on Imolites, including a crude, cack-handed attempt to force them to accept his unimpressive son-in-law, Uche Nwosu, as his successor.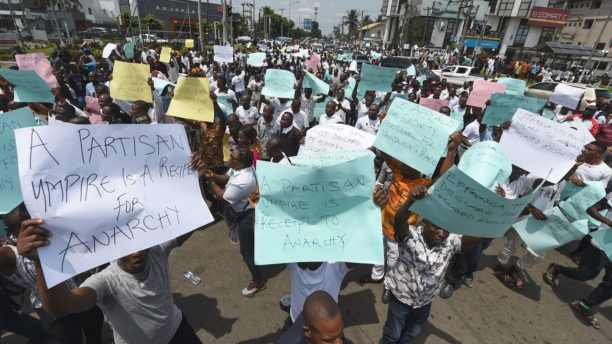 Now the Okorocha dynasty has been humiliatingly routed. The Rochas himself has spectacularly failed in his bid to become a senator; and Imo has a new PDP Governor-Elect: Emeka Ihedioha. I've known Ihedioha for 20 years; and I've never had cause to regard him as anything other than a good guy who has what it takes to competently handle any work assignment he undertakes.
My mother is from Imo, as are many beloved relatives; so I have a special interest in Imo Issues; and I hope that Vanguard readers will join me in celebrating the fact that Imo indigenes have finally been liberated from the bondage of negative governance and will enter into a positive new era when Ihedioha is sworn in on May 29.
More good governor-elects
Kudos to the PDP governor-elect of Oyo State, Seyi Makinde, who has promised to retain those appointed by the outgoing All Progressives Congress, APC, if they are found to be competent. Makinde has also promised to scrap a N3,000 education levy that was imposed on students by the incumbent governor, Abiola Ajimobi.
Makinde's reason? "So parents can hold unto that money and use it for their personal matters." And please note that he has already won so doesn't need to butter anyone up to secure electoral support!
Full marks to him, (a) for his civilized refusal to maliciously crush defeated political opponents, (b) for valuing professional performance above point-scoring, and (c) for wanting to help hard-pressed citizens who are struggling to get by on modest incomes.
I've also developed a soft spot for Babajide Sanwo-Olu, the civilized APC governor-elect of Lagos State…who warmly thanked his equally civilized PDP rival, Jimi Agbaje, for congratulating him.
A few excerpts from his inspiring acceptance speech, which made me smile and feel hopeful:
"Let us be completely frank and honest so that we may quickly clear the air of those things that might pollute and soil our politics if we allow them to linger. There were things said during this campaign that should not have been said. And tactics employed that were shortsighted and potentially disruptive to the social accord and harmony of purpose we have enjoyed in Lagos.
"Those who tried to use ethnicity to bring discord in hopes that such tactics might bring them victory have been sorely disappointed. The election is over. I ask them to cease and desist from this unwise conduct…Whatever you said and did during this election is forgotten. I keep no ledgers of personal grievances and hold no grudges.
"Now it is time that we put aside insignificant differences that loomed during the election…I vow to you, dear Lagosians, that my eye and my mind are too focused on the future, too fixed on where we must go to give a second thought to where you might come from.
"…Lagos is more than a space that we occupy. Lagos is a way of life that speaks of liberality of spirit and a commitment to excellence in all facets of human endeavour…We shall function as a catalyst for growth in Nigeria, in West Africa and the entire continent. Lagos will stand as the economic capital of the black race."
If only we could have more well brought-up, progressive, visionary, results-orientated gentlemen on the Nigerian public stage!!!
Reflections on Rivers State
I don't know why Rotimi Amaechi, the Minister of Transportat and ex-governor, won't leave Rivers State alone. Whether one likes or dislikes Nyesom Wike, the current governor, he and his party, PDP, are infinitely more popular, within this particular context at least, than Amaechi and his party, APC.
I supported Buhari and Amaechi during the run-up to the 2015 election. But even when I was firmly allying myself to the APC, I knew that though we had a reasonable chance of winning the presidency, we were fighting a losing battle on a state level.
It was obvious to anyone who wasn't prone to self-deception that the majority of Rivers people in particular and Niger Deltans in general strongly preferred the then President, Dr Goodluck Jonathan.
My own driver – who used to drive me to APC rallies all over Rivers State – defiantly told me that he would always prefer Jonathan to Buhari. And I discovered that his unshakeable commitment to Jonathan was the norm on our home turf. My mother was a Jonathan fan. So were 95 per cent of my family members, 95 per cent of my Rivers friends and 95 per cent of the chiefs in my village.
Wike, who was Jonathan's choice on the Rivers guber candidate front, benefitted from Jonathan's huge support base and is still the preferred candidate of the average Rivers person.
Long story short: Amaechi is making Wike – who is far from perfect – look like a besieged victim and brave freedom fighter! And Amaechi really needs to understand that he doesn't own Rivers State and cannot – even if he deploys a zillion trillion soldiers and invests billions in subverting democratic processes! – compel Rivers people to genuinely prefer him and his nominees.
Amaechi also needs to realise that while he can maybe get away with traumatizing the inhabitants of his own backyard in the short-term, the game he is playing is potentially suicidal long-term.
Too many people have died because of this terrible quarrel between Amaechi and Wike; and many are now saying that Rivers State will only enjoy peace if both of them are removed from the system.
Last word from a Vanguard reader
From Ifeka Okonkwo ([email protected]), who lives in Awka:
Our politicians should forever bury their heads in shame that in this 21st century, they are yet to grow up by their deliberate unwillingness to give us credible elections that are devoid of vote buying, intimidation of voters, ballot box snatching, destruction of already thumb- printed ballot papers at polling centres, harassment and taking hostage of INEC officials and their ad-hoc staff, manipulation of election results, burning down INEC offices and materials therein and killings during electioneering campaigns and during elections.
Let the truth be told: as long as politics has become the most lucrative venture in our country, the quickest avenue to instant wealth and a lifetime of comfort without sweat, our politicians will always strive to win at all costs so as dip their itching and filthy fingers into our national coffers and in the process impoverishing our country and its citizenry, period! They are really the bane of our country's backwardness and underdevelopment due to their insatiable greed and primitive and bulimic acquisition of earthly possessions for their children and generations yet unborn! Shame on them!
Responses To  [email protected]  Or To 0802 747 6458 Or 0811 675 9752. Please kindly note that unless you specifically request anonymity, your email or text message may be published with your name and contact details attached.