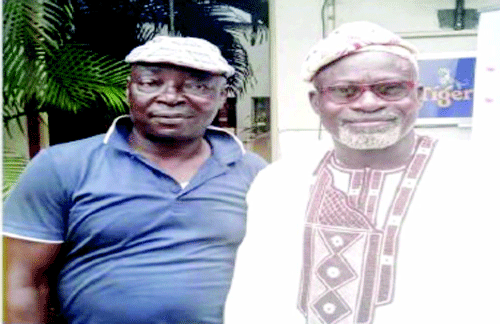 •Mr. Ganiyu Tarzan Balogun, National President, ATBOWATON with new Lagos Chapter Chairman, Alhaji Lawal Babatunde.
By Osa Mbonu-Amadi
Association of Tourism Boats Operators and Water Transporters(ATBOWATON) Lagos branch has inaugurated new members of the executive council to run its affairs for the next three years.
Sworn in Lagos to rebrand and restructure the association with specialized members doing business on water transportation, weekend water and beach tourism services were Alhaji Lawal Babatunde as (Chairman), Engineer Omowowo Repheal, (Deputy Chairman), Oluwatobi Ogunleye, (Deputy Chairman II), Aworetan Ayomikun, (General Secretary), Babatunde Segun Joel (Treasurer), Ikuemola Robinson, (Financial secretary), and Gbenga Kungbe Stephen (Auditor).
At the swearing-in and handover ceremony in Lagos, Mr. Akim Balogun, Chairman of the Electoral Committee and former Public Relation officer of the association, enjoined the new executive to take the association to the next level, considering the awareness of boat passengers on what to expect from the operators. Mr. Balogun noted that the association cannot afford to remain static on ideas of operation and expect different results, adding that time has come to prioritize the safety and comfort of the passengers as a catholic creed.
Pharmacist Alex Ani of Edichart wins clearance suit against Pharm Association
National President, Ganiyu Tazan Balogun, donated an undisclosed amount of money to the new exco to hit the ground running and advised the new leaders to unify the entire spectrum of boat operators in Lagos, not excluding the desire to get the Lagos Waterways Authority (LASWA) and National Inland Waters Authority (NIWA) to work together in promoting the best practices on water transportation and recreation in Lagos. Mr. Frank Meke, an associate and long time media adviser to the National body, called on the new leaders to show uncommon boat onboard services and marketing agenda.