… charges port users to come up with proof
By Godfrey Bivbere
THE Tin-can Island Command of the Nigeria Customs Service, NCS has warned officers and men of the Command to stay away from corrupt actions as any officer caught henceforth will be prosecuted.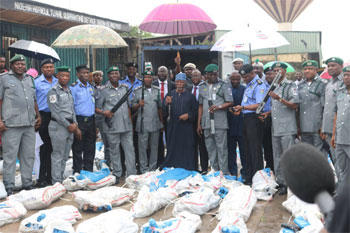 This is even as the Command has called port users with proof of corruption against any Customs officer to come forward to enable it take appropriate action.
Vanguard Maritime Report gathered that the Customs Area Controller, CAC, Musa Baba Abdullahi, had handed over this new charge on the officers in line with the zero tolerance to corruption by the Comptroller General of Customs, CGC, Col. Hameed Ali (rted).
Confirming this, the Public Relations Officer of the Command, Uche Ejesieme, said that the CAC had continually stressed the need for officers and men to stay away any such practices.
Ejesieme told Vanguard Maritime Report that Tin-can Customs boss has often times in most of the management meetings admonished officers on this issue of corruption.
According to him, "Yes, our position on this is very clear. As a command the Controller has often times in most of the management meetings admonished officers on this issue that you raised and the good thing is that the officers themselves who are in the field are not oblivious of the position of the Customs Area Controller, Comptroller Musa Baba Abdullahi.
"And this is simple zero tolerance of corruption and that is why we have provided dedicated lines like help desk line. We have the dispute resolution committee, we have other platforms and these platforms are deliberate creation of the CAC.
"Their responsibility is to ensure that they deal with any issue arising from complaints of extortions, complaints about official highhandedness and you know all manner of infractions or corruption tendencies.
"So once we receive the reports, we escalate it to the CAC and such reports would be thoroughly investigated and any officer who is found wanting would be sanctioned accordingly, there is no two ways about that.
On whether any officer has been sanctioned in the last six months, the Tin-can Island Customs image maker wondered why port users are finding it difficult to come forward with evidence of corruption against officers.
"I do not know why it is difficult for people to come up with reports, we can only hear maybe somebody coming up to talk about issues of corruption, issues of corrupt tendencies but they find it difficult to come up with such reports.
"We have always told them once you are confronted with that kind of situation, you come up with report and we document it. We will thoroughly investigate it and once we investigate it and anybody is found wanting everybody knows that the CGC and board of the current management has Zero tolerance for corruption, am not just saying this because I want to say it, we are not just mouthing it. We are very deeply committed about this and once we receive any report we investigate and once you are found wanting we would set up an internal investigative mechanism and if it is an officer who we see clearly that he is involved in that kind of action; we subject them to trial and once we trial them and the matter is established beyond reasonable doubt; then we escalate to higher authorities for clear disciplinary action," he concluded.