…Nigerian Breweries, Zenith Bank, Dangote Cement drive gains
By Peter Egwuatu
Just ahead definite outcome and conclusion of the flagship polls, the presidential election in Nigeria, investors in the Nigerian Stock Exchange, NSE, appear confident that all is well and have consequently returned bullish in the first trading day after the weekend polls.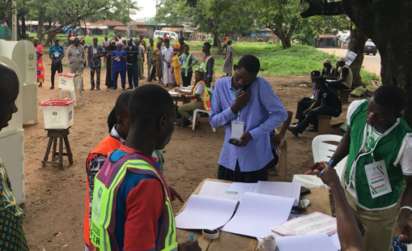 But market operators were cautious in attributing the gains to any positive outcome in the general election, preferring to wait till tomorrow's trading to see a clear picture of the electoral exercise.
The equity market experienced mild bargain hunting in bellwether stocks but at close of trading yesterday the market recorded upsurge in bench mark index, NSE All Share Index by 0.57 percent to close at 32,700.12 points.
Analysts have projected that the market would be moderated as investors await the outcome of the election results this week.
Heavy gains in bellwethers such as Nigerian Breweries (+4 percent), Zenith Bank (+1 percent) and Dangote Cement (+1 percent) significantly impacted the market to close on a positive note.
Consequently, the Year to Date, YtD gain inched to 4.0 percent while market capitalisation, another stock market gauge, improved slightly by N69 billion to settle at N12.2trillion.
Analysts task investors on cautious trading in equities
Activity level was, however, mixed as volume traded decreased by 0.4 percent to 219.7million units while value traded increased by 147.7 percent to N5.5billion.
Nigerian Breweries (42.7 million units), Diamond Bank (30.8million units) and Access Bank (20.7million units) led the top trades by volume while Nigerian Breweries (N3.6billion), Guaranty Trust Bank (N733.9million) and Zenith Bank (N337.0million) led in value of stocks traded.
Meanwhile, across sectors, performance was bullish as all indices trended northward.
The Consumer Goods index led gainers, up 1.3 percent on the back of buying interests in Nigerian Breweries (+4.0 percent) and Dangote Flour (+10.0 percent ). The Insurance and Banking indices trailed appreciating by 1.1percent  and 0.8 percent  due to gains in NEM Insurance  (+3.4 percent ), Sovereign Trust Insurance (+8.7 percent ), Zenith Bank (+1.0 percent ) and UBA (+2.5percent ).
In the same vein, the Oil & Gas index advanced by 0.1 percent as Mobil Oil (+1.1 percent ) and Oando (+1.5 percent) closed in the green. Lastly, the Industrial Goods index closed flat with a bullish bias as investors took advantage of bargain opportunities in Dangote Cement (+0.1 percent) towards the end of trading session.
Investor sentiments measured by the market breadth strengthened as 25 stocks advanced against eight decliners. The top gainers chart showed that Dangote Flour led the cream of gainers rising by  (+10.0 percent) to close at N 11.05, followed by ABC Transport  (+9.6 percent )  to close at  N0.57. Veritas Kapital  garnered (+9.5 percent to close at N0.23, followed by  Niger Insurance (9.09 ) percent to close at  N0.24 and Royal Exchange  up by 9.09 percent  to close at N 0.36.
On the other hand, Union Diagnostic led the losers chart dropping by (-6.5 percent) to close at N0.29, followed by Total Nigeria (-2.6 percent). CUTIX declined by (-1.6 percent) to close at N1.87, followed by Flour Mills ( -0.99) to close at N20.00 and  Access Bank  plummeted  by (-0.78 percent ) to close at N6.35.
Commenting, analysts at Afrinvest Research said: "We observed cautious trading in today's (Monday) trading session as investors await the results of the 2019 Presidential elections. We expect market direction this week to be largely determined by the outcome of the election.
The Chairman, Association of Stockbroking Houses of Nigeria, ASHON, Chief Patrick Ezeagu said: "Investors are being cautious as the election is not yet concluded. Once the election is concluded the market will start reacting accordingly.
Rule on share transmission to reduce N100bn unclaimed dividend
In his comment, Managing Director, APT Securities & Funds Limited, Mallam Kasimu Kurfi said: "The market maintained the status-quo by closing northward but the actual reaction will follow after the final results are pronounced."
Also commenting, Managing Director, Sofunix Investment & Communications Limited, Mr Sola Oni said: "Investors react to material information. There is no final announcement as of now on who wins the Presidential election. Until the result is announced and the general reaction is weighed, it will be speculative to forecast investor reaction.
"However, under this situation, investors would rather adopt wait and see attitude. Those who are keen or buying stocks would go ahead and the ones on sales mood can always sell.
"It may be controversial at the moment to link upswing or downswing of the market to investors' reaction to political mood. Official announcement of the new president could be regarded as price –sensitive. But such announcement is being awaited.
"The market was bullish today (Monday) but that cannot be totally ascribed to the election of which the Independent National Electoral Commission, INEC is still releasing the results."