By Nwafor Sunday
Media aide to President Muhammadu Buhari, Mrs Lauretta Onochie, has on Monday put in perspective the statement made by the presidential candidate of the All Progressives Congress, APC.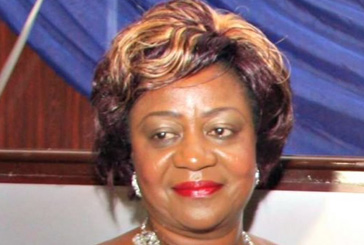 Onochie who supported Buhari's statement cited laws that are solidly behind 'snatch and die 'action.
Valentine: NGO urges youths to show true love
Recall that Buhari ordered security agencies to be ruthless to those that would disrupt the forthcoming general elections and was inveighed against by many Nigerians who took to their various social media handles to criticise him.
Speaking during an emergency caucus meeting of his ruling All Progressives Congress, APC, Buhari opined, "I do not expect anybody to make any disturbance. I have briefed the law enforcement agencies and the military to identify hotspots, flash points; they should be prepared to move. They too would have made their own arrangements as possible and resources provided as much as the country can afford it.
"Anybody who decides to snatch ballot boxes or lead thugs to disturb it (elections), maybe that would be the last unlawful action he would take. I have directed the police and the military to be ruthless.
"We are not going to be blamed that we want to rig elections. I want Nigerians to be respected, let them vote whoever they want across the parties. I'm not afraid. As you said, I have gone round all the 36 states and Abuja. I think I have got enough support across the country.
2019: Buhari'll get over 50 percent votes in Delta, BSO boast
"I am going to warn anybody who thinks he has enough influence in his locality to lead a body of thugs to snatch boxes or to disturb the voting system, he would do it at the expense of his own life."
Miffed with his statement Ohanaeze Ndigbo, pan-Yoruba socio-political group, Afenifere, Second Republic lawmaker, Junaid Mohammed and lawyers, including Mike Ozekhome, Ebun Adegboruwa, Norris Quaker, Abiodun Owonikoko, condemned the statement and described it as hypocritical, saying that it is another reason he shouldn't be re-elected.
However, having seen the section of the law were it is said in section 33. (1) that Every person has a right to life, and no one shall be deprived intentionally of his life, save in execution of the sentence of a court in respect of a criminal offence of which he has been found guilty in Nigeria.
(2) A person SHALL NOT be regarded as having been deprived of his life in contravention of this section, if he dies as a result of the use, to such extent and in such circumstances as are permitted by law, of such force as is reasonably necessary –
(a) for the defence of any person from unlawful violence or for the defence of property:
Polls Shift: Observers beg Nigerians to remain calm, accept new dates
(b) in order to effect a lawful arrest or to prevent the escape of a person lawfully detained; or
(c) for the purpose of suppressing a riot, insurrection or mutiny.
Onochie averred that Buhari has the right and power to protect Nigerians from those who plan to thwart their collective will.
Her words, "The Commander in chief of the Armed Forces of the Federal Republic of Nigeria, has the right and power to protect us from those who plan to thwart our collective will.
"Democracy has two sides. Soft and hard. We love our President for learning more on the soft side of democracy. But criminal elements, are taking it for weakness.
This hard side of democracy, is quite timely and we love you Mr. President for insisting on protecting the votes of Nigerians from thieves.
#SnatchAndDie
#SnatchAtYourOwnRisk"