By Funmi Komolafe
I will look unto the hills, from whence cometh my help,  My help cometh from the LORD which made heaven and earth". Psalm 121 vs. 1&2.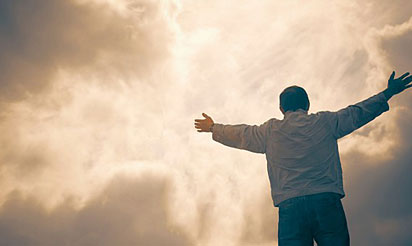 The words of this Holy Bible passage can be recited off hand by many Christians, young and old but do we really put it to use? The honest answer to my mind is No.
Many of us rely on our knowledge of science, etc. to respond to challenges that confront us rather than turn to God.
This perhaps explains the reason many of us experience challenges that seem to remain with us forever.  It is the same reason we sometimes experience unnecessary delays.
The Holy Bible tells us that God is our ever-present help.  Psalm 46 verse 1 puts it this way " God is our refuge   and strength, a very present help in trouble".
We need to seek His help all the time, not only when we are in trouble.
Brethren, God is able to help us make decisions.  When He is involved, the result is a sweet story.  When we fail  to seek his help, most  of the time, we fail.
You may have decided to achieve some goals this year, for which you have written down some plans but have you put in the God factor?
How do you intend to  involve Him? Have you planned to serve him better?  Have you taken a decision to establish a relationship with the Holy Spirit?
There are numerous ways of getting closer to God.  Some of these we mentioned in previous editions.
For instance, as a parent, who believes God for a life partner for a son or daughter?  Do you just sit and wait until he or she presents anybody to you?  That isn't the right attitude. As a parent, you need to be prayerful and encourage your child to be prayerful.  Marriage isn't a union with just anybody.   The choice of a life partner should be taken seriously with God's guidance.
Let's consider an example in the Holy Bible.  The story tells us about how Abraham told his servant to look for a wife for his son Isaac.  The servant obeyed his master by going to the land of his kindred but how would he identify the wife for Isaac.
The servant asked for God's guidance.  Genesis 24 vs. 12 " And he said, O LORD God of my master Abraham, I pray thee, send me good speed this day, and shew kindness unto my master Abraham".
After this prayer, he saw a set of beautiful ladies any of whom he could have been chosen as a wife for Isaac but again, he asked God for help.
Verse 14 " And let it come to pass, that the damsel to whom I shall say, Let down thy pitcher, I pray thee, that I may drink; and she shall say, Drink, and I will give thy  camels  drink also; let the same be she that thou hast appointed for thy servant Isaac; and thereby shall I know that thou hast shewed kindness to  unto my master".
The servant got an instant answer as recorded in verses 15- 20.  The story tells us of how a beautiful Rebecca emerged.  Note that beauty was not the sign that the servant asked for.  He wanted for Isaac, a woman with a  God fearing heart.
Anyone who fears God will be kind to others.  Our Lord Jesus taught us in Mark 22 vs. 37-39 " And Jesus said unto him, Thou shalt love the Lord thy God will all they heart, and with all thy soul,  and with all they mind. This is the first and great commandment.  And the second  is like unto it, Thou shalt love thy neighbor as thyself".
Verses 17-20 "  And the servant ran to meet her, and said, Let me, I pray thee, drink a little water of thy pitcher. And she said, Drink, my lord: and she hasted, and let down her pitcher upon her hand and gave him drink. And when she had done giving him drink, she said, I will draw water for thy camels also, until they have done drinking. And she hasted, and emptied her pitcher into the trough, and ran again unto the well to draw water, and drew for all his camels".
The rest of the story, you are familiar with.  Rebecca became the Lord's chosen wife for Isaac.
The issue here is why should parents play a role in the choice of a son or daughter's spouse?  It is because; a marriage relationship is the foundation of a joyful home.
Brethren, don't misunderstand me.  I am not saying that parents must chose for their children.  Not at all but you can back his choice up with prayer even without the knowledge of the child.
In practical terms, what one is saying is that it is important   parents   support the youths with prayers so that they do not make the wrong choice.
Where wrong choices are made, the failure does not only affect the couple alone, it also has effect on the larger family. There are instances of parents who have  died as a result of the shock of the failed marriage of their children.
Apart from marriage, we also need to seek God's help in respect of health challenges, our daily movement, promotion at work, indeed for all the good things of life including freedom from enemy attack.
As a mother over 70, what are you doing about your daughter or son that is waiting on the Lord?  Do you pray for them? Or you are planning to tell your son to go find another woman?    If you do this, then you are planting evil seeds into your son's life.   There are women who also tell their daughter to sleep with any man just to get pregnant.  Mummy, may the devil not use you to sow the seed of sorrow into your son or daughter's life.
What you should do is to pray for them.  Devote time for special prayers for the couple. Are you in debt and worried?  God is able to make you debt free. Kick worries out of your heart.  Is yours the case of a job lost and everything seems hopeless, please cry unto God, ask him to help you.
We have this assurance in Isaiah 41 vs. 13 "For I the LORD thy God will hold thy right hand, saying unto thee, Fear not; I will help thee".  Verse 17 of the same chapter says " When the poor and the needy seek water, and there is none, and their tongue faileth for thirst, I the LORD will hear them, I the God of Israel will not forsake them".
Brethren, you need God to meet all your needs.   Philippians 4 vs. 19 " But my God shall supply all your need according to his riches in glory by Christ Jesus".
The Bible did not say ' some of your needs', it states, " all your need".  In other words, all your needs without any exception, the Lord can supply including children in your marriage.
Start off this year with joy in your heart and by the grace of God, you will have reasons to celebrate this year in Jesus name.
By the grace of God, you will get the help from above this season in Jesus name.
Brethren, the closer you are to God, the closer you are to your miracle.Seek His help and He will help you. Do not allow impatience to make you do what you should not do.
Whatever is the challenge, seek the help of God. This year, you will overcome in the name of Jesus.   Remember, almost all human beings have one challenge or the other; those who overcome are those who embrace Jesus.
Are you ready to seek his help? Make up your mind to seek his help and He will help you.
May the peace of the Lord be with you.