By Donu Kogbara
SO ho hum! Here we go again: The beginning of yet another a new year. And I'm trying to imagine some of the best-case and worst-case scenarios that Nigerians will face in the next 12 months.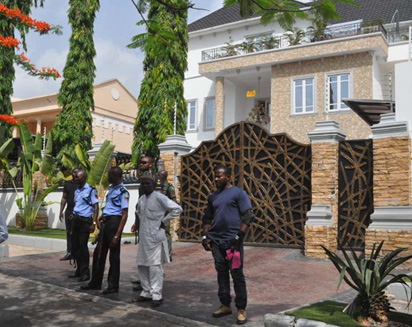 Father Mbaka
Worst-case Scenario: Reverend Father Ejike Mbaka, the Spiritual Director of the Adoration Ministry in Enugu, will continue to talk incessantly in a manner that is not appropriate for a Catholic priest.
Mbaka fancies himself as a soothsayer and recently predicted that the presidential candidate of the Peoples' Democratic Party, PDP, and his running mate, Peter Obi (a Catholic), would lose the upcoming election if the latter did not generously donate to his church.
I am a Catholic myself; but I am not afraid of attracting dark Mbakan threats of Holy Ghost Fire and Fury, so let me say that I've always found the man's utterances and posturings very disturbing.
Best-case Scenario: Serious-minded VIPs will stop bothering to visit or please this loquacious, attention-seeking cleric; and, with any luck, he will pipe down and do his job more humbly if he ceases to be treated like the politically relevant celebrity he shouldn't be.
Why we are slow in fighting corruption – President Buhari
Dino Melaye
The other day, I visited a friend in the Maitama district of Abuja and found the street she lives on swarming with police officers and blockaded by heavy-duty vehicles.
When I asked what was going on, I was told that the police were laying siege to the residence of Dino Melaye, a flambouyant opposition PDP senator from Kogi, who is my friend's neighbour and has fallen foul of his Governor and the ruling All Progressives Congress, APC, from which he noisily decamped in 2018.
This siege has been on for several days at the time of writing; and tear gas was lobbed into the senator's compound at one point. Apparently, the authorities are accusing him of criminal activity in his home state and determined to cut him down to size.
I actually know Melaye – not well, but well enough to describe him as very amiable; and I must say that he is so cheerful and easygoing that I find it hard to believe that he can do anything evil. OK so appearances can be deceptive; but even if he's guilty as charged, is all this scary razzmatazz aggression the ideal way in which the attempted arrest of a lone legislator should be handled?
Worst-Case scenario: The Federal Government will continue to squander energy and scarce resources on the wrong things…and to try to squash flies with sledgehammers, while spectacularly failing to effectively tackle more important law-enforcement challenges…such as the crises that are gripping the North-East and Zamfara State.
Best-Case Scenario: The Federal Government will realise that its motives for going after Melaye are widely regarded as suspect and will quit making itself look lousy – in the eyes of most foreign as well as Nigerian onlookers – by indulging in such crude, bullying overkill tactics….NOT just within this Dino Melaye context; but generally.
The First Couple
Hajiya Aisha Buhari, Mr President's wife, is fearless and has openly and bitterly complained about her husband's administration being hijacked – and prevented from making sufficient progress – by sinister individuals.
Some folks think her too outspoken – disrespectful and destructive, even. But I just love her feistiness and refusal to be submissive.
Worst-case scenario: The First Lady has just been appointed to play a key role at the helm of her husband's election campaign; but her role turns out to be nothing more than a superficial window-dressing exercise designed to placate a "loose cannon" spouse.
Meanwhile, Mr President continues to be overly dependent on folks who aren't as genuinely protective as the mother of his children – selfish cronies who dish out bad advice and are just using him to empower themselves and feather their nests and don't give a damn about enhancing his reputation, performance or legacy.
Best-Case Scenario: Whether the Buharis win or lose their positions at the pinnacle of our society on February 16, I hope that Mr President either remains in office or retires with a clear understanding of the fact that his wife has tried to push him to maximize his potential and has been one of his greatest assets.
Restructuring
I wrote about restructuring last month and received so many responses that I thought I should, albeit belatedly, publish some:
08033015690 Ben Ilebode
Hello Donu, this whole talk about restructuring by politicians is just to get votes. All the major contenders for the Presidency now have been key players in running our country one way or the other before and did nothing in that direction. Let no one be deceived.
08033067801 Anonymous
Dear Donu, nobody should fear restructuring. It's generally, at least in Nigeria, a matter of controlling anything within one's zone. The North is apprehensive that if restructuring is allowed to be part of the constitution, they will be impoverished. But is the status quo now fair on people from zones where the largest resources are obtained from?  The answer is NO. 
Balance of equity
No need for any zone to entertain any fears about restructuring. It will benefit every zone, based on equity.  If equity had been past governments' watchword in terms of federal appointments, resources-sharing formulae, etc, all this discussion we are having now about restructuring wouldn't be raising any eyebrows.
Balance of equity requires that restructuring must happen in our time, to avoid threats to our unity as a nation.
Worst-case scenario: The politicians who run the show continue to slyly dodge the controversial restructuring issue and continue to short-change not just currently productive regions like the Niger Delta and Lagos, but the entire country.
Best-case scenario: The politicians who run the show develop the patriotism and courage to ditch an ailing system that is not fit for purpose and listen to economic experts who can teach them how to restructure in a way that will work for Northerners as well as Southerners.
Responses To  [email protected]  Or To 0802 747 6458 Or 0811 675 9752. Please kindly note that unless you specifically request anonymity, your email or text message may be published with your name and contact details attached.