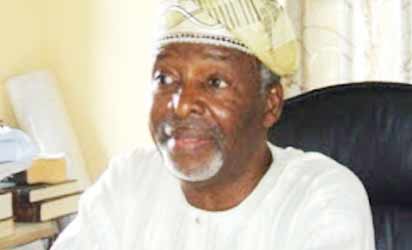 Fasheun: UPN will give direction to the Southwest
•Says late activist was misunderstood over Al-Mustapha, Abacha family
•'How he died unexpectedly after years of battling diabetes' 
By Olayinka Ajayi &  Chris Onuoha
Akin Fasehun, the last son of the late Dr. Frederick Fasehun, an IT expert, runs a logistic firm. Akin, in this interview, speaks on his father as a family man.
How do you describe the demise of your father? 
He was someone I really looked up to in every aspect. He will always ring it into my ears anytime I misbehaved that there is more to life than making money and that a good name is better than silver or gold. Also, being a very conservative person, my siblings took a lot from his humble side as we like to live a quiet life.
How did his lifestyle shape yours in terms of politics, activism, family, business among others?
In terms of politics, Dr. Fasehun was known to be incorruptible. No matter how difficult the situation may be, he will always say it the way it is. I actually respect that a lot. I recalled when I was working with Opeyemi Bamidele (APC leader), anytime he asked me for my opinion, I was always straightforward with him. Although some people will nag about my being too truthful, I always insisted on telling him the truth. That is one thing I learnt from my father. No matter the cost, always say the truth because doing that makes it a lot easier to get things done at the end of the day. One of the reasons we are having problem as a nation is because we don't actually face the truth and if we actually face the truth, I think things will be better than they are presently. As a family man, he actually sacrificed a lot and that made him an awesome father. But in the early years when his activism was really deep, he was hardly available for his children. He spent more time fighting for Nigeria. We hardly saw him but anytime he came home, it was fun all the way. But the struggle for a better Nigeria and true democratic rule was always taking him away. He was an awesome family man with five grown up sons and a daughter. And we are doing well in our various fields. It does not take only the mother to do that, without the input of the father. Anytime time I was leaving for school, my father will go to a corner and start crying. Despite spearheading the Odua Peoples' Congress, OPC, struggle, my father was a very soft-hearted person.
How do you describe his involvement in OPC?
The OPC experience is a different ballgame. In the early 90s when the OPC struggle was really hot, they used to refer to me as 'Akin Omo Baba OPC Egg Bomb' because we heard that OPC used egg bombs to burn down police stations back then. In a way, it had the positive and negative effects. One particular day, I was taking a stroll in Isolo, Lagos when I noticed two guys pointing at me saying 'Oun ni ye' (that is him), it was during the OPC factional crisis. I didn't know if it these people belonged to my father's faction or the other, or if they were looking to do me harm. I immediately started praying because I didn't know what might happen next. I quickly boarded a commercial motor-bike that took me home. I really don't fancy public life but when people get to know the son of whom I am, they accord me great respect. Another negative aspect of being his son is that anytime violence breaks out, you have to keep looking over your shoulders. There is a lot of benefit being Fasehun's son and there is a lot of fear because you didn't know who is after you or who wants to get back at your father using you because of something that has happened. But overall, it was a beautiful experience. The negative side actually taught me to be very security conscious. When you deal with people like those in OPC, you have to learn how to be two or three steps ahead, security wise, because you don't know what can happen next.
What legacy did your father leave behind that you cherish most?
My father left a very big shoe to fill. He had a very high standard of living; when it comes to honesty, straightforwardness without mincing words, my father hated it when people lied to him. He also liked dealing with people plainly which is one thing most Nigerians find hard to do.
How do you describe those who saw Fasehun as a god-father?
Dr. Fasehun was nobody's god-father but more like a mentor to many people. He was someone that could actually help people to understand the path which they were taking. People would come to him to seek favours and he will gladly do anything for them without expecting favours in return.
Major Al-Mustapha always referred to Fasehun as his father. How did their paths cross?
When the issue of fighting for Al-Mustapha's release came up, I asked my father why he was doing it because Al-Mustapha was prominent in the regime that tried to kill him, and he said: 'Akin, this man has actually served his term and he has been punished enough. You should learn to forgive people', which is exactly what he did. He genuinely forgave him. He said when he met with Al-Mustapha, he just loved his person. Many people thought the Abacha family gave him money but they never gave my father a dime. The problem with Nigeria is that we are not united; we keep fighting each other. We must learn to live harmoniously, which was what my father demonstrated by fighting for someone who hurt him in the past, and who was not from the Yoruba race. If we learn to forgive one another, the country will move at a pace nobody expects. Every tribe wants to be the one on top. Why can't we be particular that Nigeria has to be on top? If we are so particular about tribe, then why are we Nigerians? My father was a Yoruba man that didn't fight for the Yoruba race alone but fought for a better Nigeria. His doors were basically opened to everybody, be it Hausa, Fulani, Igbo, Itsekiri, Edo, Isoko or Yoruba. My father was a man of the people that was accessible to even hawkers on the streets. That is an attribute that if every leader has, our nation will be a better place.
How do you see those who chastised your father during the struggle paying condolence visit?
I think it is because they didn't know better because if they really understood the kind of person Dr. Fasehun was, they would know that he would never bend his principles for anyone, even his family. If you really wanted to get him angry, try to bribe him; that is when he would really get offended. His principles made him stand out from the crowd. The maxim, you never know what you have until it is gone, clearly depicts the fact that Nigeria didn't know what they had until Fasehun left. Dr. Fasehun is one of the extremely rare Nigerians that are straight forward and incorruptible in a very corrupt society.
At what time did your father discover he had diabetes and how did he manage it?
To the best of my knowledge, he had always known and always managed it without medication or drugs. He used his diets to do that, knew how, what and when to eat. But once in a while when his sugar level was high, he will take drugs to ameliorate or crash the sugar level.
Did the family have any premonition of his death, knowing his health conditions or is it something that came abruptly?
Honestly, it came abruptly because he was very agile, engaging in his routine without any trace of serious or critical condition. We were very busy talking about his newest project 'Presidential Debate' before his sudden death. He wanted to bring all the presidential candidates sitting together so that the people can hear their views and ideologies.   We were still talking about politics, how youths could actually take control of the polity before his demise. He was very active going to meetings, attending regular functions. We did not foresee his death.
So how did the family receive the shock?
Nobody ever wants to lose a family member. To be honest, it is unusually painful. He lived an enviable and fulfilled life: The first acupuncturist in West Africa, a surgeon and an activist. He was a presidential aspirant of the Social Democratic Party, SDP, in the early 90s.   He was a man of the people, by this I mean he was not the type that would speak and hide. He would show it more than he saying it, very accommodating to people at all levels.
It appears your father, despite his status in life, was not flamboyant like his contemporaries who acquired properties in highbrow areas of Lagos but rather chose to make a neighborhood like Okota his place of abode. Could you describe his persona?
He brought us up with an understanding that good principles are stronger than money. For him, it was not about lavish lifestyle, it is about being humble and honest. He preached that 'you don't need all the money on earth because you will leave empty when you die'.   He is not a materialistic person yet he loved cars. He acquired his taste and enjoyed it but he wouldn't go out of his way to acquire it when he couldn't afford it. He was very accessible and lent a listening ear to everyone including farmers in the village. He worked hard in life. He will always say that it is not how much you have that makes you, but how well you can influence people around you positively.
What legacy could you say he impacted into you?
Humility and never take the next man for granted no matter how lowly he is.
My father didn't send us abroad to study because he believed in Nigeria –Remi, fourth son
 Remi, the fourth son of Fasehun, also has fond memories of his father.
I am the fourth child in a family of six children. My father inculcated in us values that endure. He had close relationship with his children and he valued and treated all of us equally. My mother was a soul mate to him. He will always say he married his soul mate. My mother is a bit on the disciplinarian side than my father who believed every child must have adequate freedom to operate. This also reflects on the way he treated us while alive. He was never forceful even in career choice but believed that once he had laid a solid foundation for anyone, one should be able to operate without challenges.
He was a philanthropist of a sort, reaching and helping people in need. My father abhorred lies and he was a strong believer in integrity and honesty. Those were the guiding principles that shaped his activism. His relationship with his associates was very cordial and our house was usually a beehive of activities as he engaged in OPC meetings, political deliberations and social issues that required his inputs. He was a detribalised Nigerian who did not see any difference between North, South, East or West. That is why his friends cut across all Nigerians.
He was passionate about youths. His agenda was to see youths take over the leadership of the country.
His spiritual life was intact. We worshipped in Anglican Church as growing up kids but some of us later found goodness in Pentecostal churches. My father never bated an eyelid because he was convinced that he had laid a solid foundation for us.
In his patriotic nature, all my siblings went to school in Nigeria. He believed in Nigeria so much so that he thought that sending children to study abroad is a waste of resources when the same education can be obtained here. However, some of my siblings did their postgraduate studies abroad.
The founding of the Oodua Peoples' Congress was borne out of his hatred for injustice. He wanted to use the platform to correct the anomaly in the society. Even when Gani Adams created a faction, he did not see it as a rivalry because, according to him, anything that can bring a positive change to the society is welcomed.
The entire family will miss him especially his fatherly care.