…Vote Atiku since Buhari has failed to fulfill his promises– Gbenga Daniels
By Nwafor Sunday
Similar to 2015 campaign period, the ruling All Progressives Congress, APC, and the Peoples Democratic Party, PDP, had been in locked horns since the Independent National Electoral Commission, INEC, Sunday, permitted all the Presidential Candidates to commence with their various campaigns.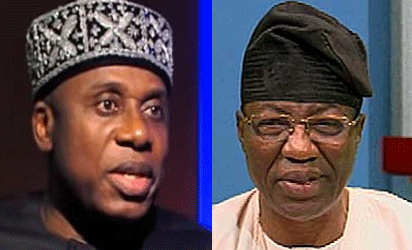 Political parties are at liberty to woo as much as possible electorates they want by stating their objectives, unveiling plans and criticizing the manifestos of fellow candidate.
LASG partners pharmacists to monitor drugs containing human parts
The Director General of both Buhari's Campaign Organisation and Atiku, Mr Rotimi Amaechi (APC) and Mr Gbenga Daniel bombarded themselves at Channels Television when the duo were trying to defend their respective candidates.
For Amaechi, Buhari has done well and deserves to be re-elected to further bring more change to the country.
While, Gbenga was of the opinion that Buhari has failed Nigerians and should be voted out. He reeled out reasons why Nigerians should vote Atiku Abubakar  in the forthcoming 2019 presidential election.
Read their various statements below:
Gbenga Daniel's
"Nigeria is not working and I want to start by quoting what the current president said in one of his tweets, specifically, I think this was sometime in March 2015 just before the election, he promised Nigerians Jobs, he said he was going to create additional jobs and he said and I quote, If I do not fulfil my promises, you have the power to decide who leads you and how they lead you.
"Part of what is key for us is provision of jobs and my submission is if the contract that Buhari had with the people is that he will create jobs, then he has failed to deliver that contract.
"Going forward, in Atiku Abubakar, we clearly have a better person, we clearly have someone who has better exposure to all the facets of this country.
N80bn Bayelsa Airport: APC kicks over outrageous, inflated amount
"We have someone who is very much at home anywhere".
Amaechi's reaction
"What we are saying to Nigerians is that we will not lose focus. We are going to focus on infrastructure; we are dealing with roads, water, power, and railways. We are also improving on our seaport.
"We are saying to Nigerians, trust us. We promised change, now there's a huge change in Nigeria. We are not going back to the economy where people just cart away funds," he said.
The Minister explained further that the Buhari-led administration deserves to be trusted due to the projects delivered during the years of APC governance.
"Few months after coming to government, we commissioned the Kaduna-Abuja railway, does that not deserve another trust. We are working on Lagos-Ibadan railway. Work is ongoing on the Lagos-Ibadan highway.
"Power has improved from 3,000 megawatts that we met it to 7,000 megawatts and we are discharging about 5,000 megawatts.
"We are working every day. It is work in progress, so Nigerians need to trust us."