By Ayo Onkoyi
It won't be new year in another 37 days or so, but the landscape of the year 2018 in the music space has pretty much taken shape.
Barring any last minute surprises or some magical big bang, the most viewed videos on YouTube as at November 14, 2018 are going to be just as they are now today as they will on December 31, 2018.
No doubt, one needs to keep an eye  for a video like Wizkid's 'Fever', featuring Tiwa Savage as a vixen. The video has shown it has a tendency to misbehave as it did on its first day of release. No one saw it coming or how in the name of anything a Nigerian video could have a million views in one day!
As it stands, here are top 10 videos of 2018, first compiled by novice2star.com, verified and updated by Vanguard Weekend Appetiser.
Number 1 : Wizkid's Soco and Davido's Assurance (27M) 
As at November 14, 2018, both videos have to their credits, a whooping 27 million views. Some months back, Davido's Assurance was leading with a couple of millions but it seems the impetus created by the 'Fever' video of Wizkid has rubbed off on the 'Soco', which may soon have 'Assurance' gasping for breath.
Though 'Soco' was released in March while 'Assurance' was released in May but Wizkid still holds the aces here. Impressively, Starboy's Soco audio reached over 20 million views on Youtube (No Nigerian audio has reached such views before).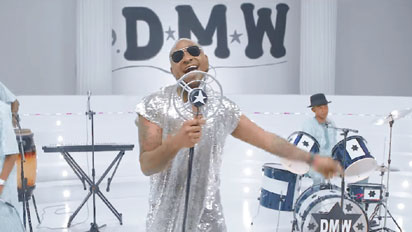 Number 3: Yemi Alade – Bum Bum – (16M)
Effyzzie Music Group Female act Yemi Alade has reached an impressive 16 Million views on the video to Bum Bum premiered 13th March.
Number 4: Falz – This Is Nigeria (15M)
The controversial cover to "This Is Nigeria" by Falz was released on May 25, 2018 and has  reached 15 Millions views and counting. It is very hot on the heels of Yemi Alade's 'Bum Bum'.
Tiwa Savage shines at MTV Europe Music awards
Number 5: Tekno – Jogodo (15M)
Some say the success of this song "Jogodo" is attributed to the original version done by Danfo Drivers, that aside, his song was released May 10,  and has already gained 13 Million views on Youtube.
Number 6: DJ Spinall featuring starboy Wizkid (12M)
Smash banger by DJ Spinall featuring starboy Wizkid. "Nowo" video was released Feb 26, and has almost 12 Million views as at press time.
Number 7: Olamide – Science Student (10M)
YBNL boss Olamide dropped the first certified hit song this year. Science Student audio dropped 11 Jan and the video followed on  Feb 25, and has reached over 10 million views.
Number 8: DMW – 'AJE' feat. Davido, Yonda, Peruzzi & Fresh VDM (9.5M)
After their success with  "Mind". DMW came back with an even better banger titled AJE featuring Davido, Yonda, Peruzzi, and producer Fresh. The video dropped  April 17, and has already been viewed 9.5 million times.
Stew for Tbillz as fans react to Wizkid, Tiwa steamy music video
Number 9: Davido – Flora My Flawa (9.3M)
Flora My Flawa was the second hit song released this year, after Olamide's Science Student. Flora My Flawa by Davido was premiered Feb 12 and has a total  9.3 million views and counting.
Number 10: Tiwa Savage Ft. Omarion – Get It Now Remix ( 9.1M)
Mavin Records diva Tiwa Savage seeks the help of American singer Omarion on the remix to her smash hit song "Get It Now", off her EP Sugarcane. Released  April 24, "Get It Now Remix" is on 10th spot with 9.1 million views.