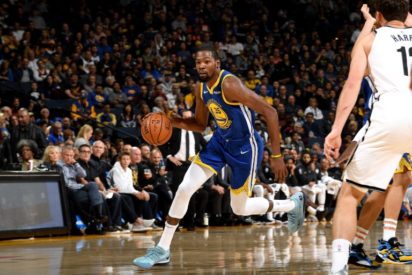 OAKLAND, CA – NOVEMBER 10: Kevin Durant #35 of the Golden State Warriors handles the ball against the Brooklyn Nets on November 10, 2018 at ORACLE Arena in Oakland, California.
Kevin Durant scored 28 points and unheralded Quinn Cook delivered 27 as the defending champion Golden State Warriors rallied without injured star Stephen Curry to beat the Brooklyn Nets 116-100.
Quinn's total was a season-high as he dressed in place of Curry, who missed the game after suffering a groin injury on Thursday in a loss to Milwaukee.
"I was trying the pick and roll, making great reads and trying to set great screens," Durant said.
Curry "doesn't feel entitled or like he has to play. When his number is called he is able to go out there and produce."
The Warriors were also without Draymond Green, but nine time all-star Durant carried the club on his back as they snapped Brooklyn's three-game winning streak.
Durant had 13 points in the first quarter, scored the final six of the second as the Warriors stretched their lead to 20 in the third.
Cook made 18 starts a year ago while Curry was injured. He nailed his first seven shots Saturday and matched Durant with 19 points in the first half.
Cook described Durant is a special talent. "I want to be like him some day — a Hall of Famer."
– Lakers beat Kings –
Elsewhere, LeBron James scored 25 points and Tyson Chandler grabbed 12 rebounds as the Los Angeles Lakers clawed their way to a .500 record with a 101-86 victory over the Sacramento Kings.
The Lakers are now 6-6 on the season, the first time they have as many wins as losses.
"We didn't cave in on our principles," James said. "We had a hell of a game plan and we executed for 48 minutes."
Brandon Ingram finished with 12 points and eight rebounds for the Lakers, who have won four of their last five games.
James hit his first six of nine shots and finished 10-for-18 from the floor.
De'Aaron Fox led the Kings with 21 points but he didn't get much help from the rest of the Sacramento starters.
– Harrell stars in Bucks victory –
In Milwaukee, Montrezl Harrell provided the spark, coming off the bench to score 26 points as the Los Angeles Clippers edged the Milwaukee Bucks 128-126 in overtime.
Coach Doc Rivers, who had a pep talk with Harrell at halftime about his lack of defensive play, knew he could trust Harrell in the second half.
"He turned it around," Rivers said. "His energy was infectious."
Lou Williams hit a clutch driving layup with less than a second to go in overtime, but it was Harrell who set the table by diving for loose balls, barging his way through defenders and even wagging a finger after blocking a Bucks' shot.
"I come in here every night just looking to give my team the extra boost and that extra push to will us to win the game," said Harrell, who shot five of 15 from the field late in the game.
Harrell also finished with nine rebounds and 10 assists.
Giannis Antetokounmpo tallied 27 points and 18 rebounds in the loss as the Bucks dropped to 9-3 on the season.
"Offensively, I felt kind of weird going down in the fourth quarter and overtime because we've been blowing teams out this year," said Antetokounmpo.
Patrick Beverley had 21 points for Los Angeles, and Tobias Harris finished with 20 points and 11 rebounds.
"They're a top team in the whole league playing phenomenal basketball," Harris said. "We kept fighting and found a way."
In Toronto, Pascal Siakam scored a quickfire 23 points as the Toronto Raptors maintained their grip on the Eastern Conference standings with a 128-112 demolition of the New York Knicks.
Cameroonian international Siakam drained six field goals including a trio of three-pointers as Toronto romped to a comfortable victory at the Scotiabank Arena.
The win sees the Raptors improve to 12-1 at the top of the Eastern Conference, maintaining their lead over second place Milwaukee.
Toronto, who topped last year's Eastern Conference only to be swept in the playoff semi-finals by Cleveland, are determined to improve on their recent record of postseason failures this year.