LAGOS—A maritime expert and chairman of Ogbese Marine Services, Prince Olusegun Ologbese has said that the impression that Customs checkpoints on the roads and sea ports have increased is untrue.
In a statement, Prince Ologbese absolved the Comptroller-General, Nigeria Customs Service, Hameed Ali of the allegation of setting up multiple checkpoints saying that what the customs service has done is to increase the number of its personnel at strategic borders ahead of the festive season.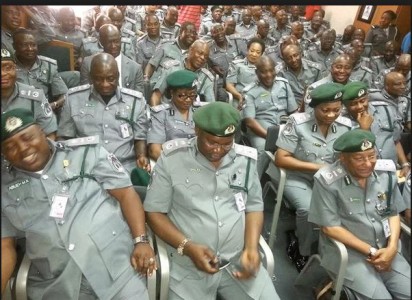 Ologbese said: "A lot had been said and written on the custom multiple check points and proliferation of custom units in the ports and our high ways which they said had actually encumber clearance procedure at the ports.
"Agents and importers claimed it is getting beyond their acceptability. After studying the situation, I discovered that the noise and the agitation on the issue was over overblown. Any maritime practitioner would know that towards festive seasons like this, the ports, borders including the airport would be bubbling with activities so also the custom service would be preparing how to contain and control the situation. But this year things are different because of the harsh and hard economy.
https://www.vanguardngr.com/2018/10/fg-reinstates-commitment-to-end-apapa-gridlock/
"The bad situation of the economy did not allow importer and agents to accommodate the excesses of security agents including the Customs who normally double their personnel in port and borders. During this season, as such, Customs task force is not new towards the Christmas. It is just that people are angry generally. It is therefore not correct that the CGC Col. Ali is responsible for strike force or task force."
Explaining what the custom's boss has done to ensure free movement of goods during the festive period, Ologbese said: "The Comptroller-General, being an experience and understanding officer, has called all roving officers and warned them that they should find a way of sourcing for information, instead of positioning themselves in one place. He instructed the O/C to make sure experience officers head each team so that, there is decorum and discipline. That has stopped the situation where these young officers stops all containers they see on the road."