By Sam Eyoboka
LAGOS—PRELATE of the Methodist Church Nigeria, His Eminence Samuel Chukwuemeka Kanu Uche, yesterday, called on the Federal Government to intensify efforts in stemming the tide of hunger and poverty permeating the country.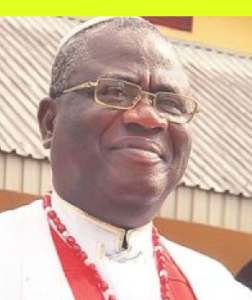 In a statement by the Director of Media and Public Communications, Rev. Oladapo Daramola, the Prelate made the charge at the consecration and Investiture for newly appointed archbishops and newly-elected Bishops and lay presidents for various archdioceses and dioceses of the church.
The Prelate said: "While it is true that policies such as the Social Investment Programme are geared towards alleviating poverty and creating jobs, more can and needs to be done urgently considering the depth of hunger that exists and the alarming rate of unemployment which needs a more deliberate and focused attention.
https://www.vanguardngr.com/2018/11/edo-sdgs-assures-of-quality-education-constructs-school/
"The unemployment and underemployment gap is getting wider and all hands must be on deck to save the situation which, if not managed well, is spiralling into a crisis already."
"This is a responsibility of the government at all levels and the private sector also needs to do more of the enabling environment is created by government." The Prelate, however, urged the newly elected Bishops and lay presidents to live lives worthy of emulation, build up their followers by instilling the right set of values that can transform the country into a better place.
https://www.vanguardngr.com/2018/11/buhari-repeating-obasanjo-jonathans-mistakes-ezekwesili/