By BENJAMIN NJOKU
…The scandals that could not bring her down
Mercy Aigbe is one of the gifted actresses in this part of the world. Her elegance and style have not only earned her mouth-watering deals that ran into millions of naira, but also, they have made her the favourite of producers of both Yoruba and English movies. Yet, the mother of one is largely considered as one of the most controversial actresses in the history of the Nigerian movie industry.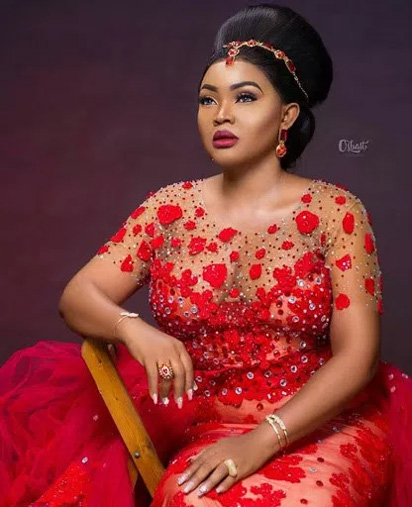 Perhaps, before last year, Aigbe was not as she appears to be today. Then she was seen as a viable actress, who holds a lot of promises for the industry. But not until early last year when she lost all that to controversy following her widely reported breakup with her estranged husband, Lanre Gentry.
WIZKID: The new bride of African music
Aigbe and her estranged husband fell out after she accused him of infidelity and physical violence which she said affected her sight and caused her to bleed internally for over three weeks. Their break up saga trended on social media side by side with that of Tonto Dikeh's crashed marriage. But unlike Tonto Dikeh's, Aigbe's predicament, however,caught the attention of the Lagos State Women Affairs and Poverty Alleviation Commissioner, Lola Akande, who reportedly dragged Mr. Gentry to court on a three-count charge of domestic violence, assault and threat to life. And the rest is history.
However, while the buzz was still trending, the actress got everyone talking again following her 40th birthday outfit, which she shared on her Instagram page. For weeks, the Edo State-born actress was receiving bash on social media by Nigerians after a bride accused her of using her dress for birthday shots.
2019: NILDS tasks social media influencers on voter apathy
The aggrieved bride, Lawrentta whose wedding was scheduled for the 29th of December, 2017 had called out her designer, Maryam Elisha (@rikaotobyme and tongue-lashed her for giving out her wedding dress. In defending her action, the designer blamed it on a dispatch error as both dresses ordered by Aigbe and the aggrieved bride-to-be were of the same style and measurement. It was a major scandal for the beautiful actress who was just trying to put up a brave front despite the embarrassment and pain inflicted on her ego. But after all said and done, the embittered actress took to her Instagram page to apologize to the bride, describing the situation as ' painful, unfortunate and regrettably avoidable.'
She did not stop there. She went on to explain how she hired and paid one Seun, a stylist for the photoshoot and got four dresses for the shoot, adding that they were unaware that one of the dresses was meant for someone else.
"I am embarrassed that the designer was not professional enough in handling events leading to this moment. It is also painful that a bride is made to go through what she went through. I sincerely sympathize with the bride,." she said.
While the buzz lasted for weeks, Mercy Aigbe was not spared as her critics seized the opportunity of the mix-up to rain abuses on her. Yet, the more she was criticised and mocked, the more she glowed like the morning dew. Feeling undefeated, and ever radiating, the actress continued to wax stronger and stronger, leaving no one in doubt that she's truly enjoying her single parenthood. And if not for anything, her applauded style and fashion statement that have complemented her new status.
Meanwhile, smarting from that birthday dress saga, Mercy Aigbe got enmeshed in another scandal that almost overwhelmed her. Few months back, those in the know had gone to town with the rumour that the actress' recently acquired multi million naira mansion, located in the highbrow Lekki area of Lagos was a gift from a state governor who's allegedly dating her. With the latest allegation, the actress cried out, explaining to who ever cared to listen to her that she built the mansion with her hard earned money.
In an Instagram post, the actress shared a picture of the edifice and wrote, "Dear bloggers, the mumu upcoming script writer! and association of instablog bad belle, jobless commentators, the house you see in this picture was bought with my hard earned money, and God's grace (not that I owe y'all an explanation) since you have taken it upon yourselves to be in my business, please employ a very good private investigator, a Pastor, an Alfa or a Babalawo to help you in further investigations, so you won't be peddling stupid rumours that have no iota of truth in it! Let me quickly warn you that more is coming oh!!! Because something huge is cooking. I am just getting started, just one house una wan die, wait till you see what is next."
Cossy Ojiakor disclaims erotic Instagram page in her name
Of course, the negative reaction that greeted what was supposed to be 'a landmark achievement ' for her'(building a mansion), stemmed from the fact that there have always been reservations about the affluence of some actresses, with some arguing that proceeds from their acting cannot match or justify their large than life images. But Aigbe insisted that her Lekki edifice was a product of her hard work. She backed her her claims, recounting in an Instagram post how she "hustled" in London, LA , New York, Turkey, Vietnam, in addition to spending the better part of her 15 years sojourn in the movie industry was spent shooting movies late at nights. Not done yet, the actress promised in a recent post that she would share her story some day.
" One of the strongest women I know!!! She has been through fire! But through it all, she is still standing tall … I know everyone has a story, but one day I will bare it all and share my story, trust me you all don't have an idea."
"Do not let your situation define you! Do not let your condition limit you! Rise above it just like I rose above every situation that wanted to crush me and I chose to be a victor! An amazon , mercified!", she wrote. What's more! The actress has said it all. But whether she likes or not, she will continue to be in the public eye for a long time. She survives every attack. Interestingly, Mercy Aigbe exudes such confidence and aroma that mock whatever challenges she has faced in the recent past. Needless to call her the proverbial 'cat that has nine lives.' And that's exactly what she is!