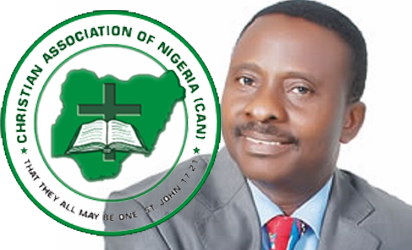 CAN President, Dr Samson Ayokunle
By Sam Eyoboka
JUST when eminent Christians, worried by the intractable crisis in Christian Association of Nigeria, CAN,  are  suing for a truce, CAN leadership, last night, described the National Christian Elders Forum, (NCEF) and the Congress of Northern Nigeria Christians (CNNC) as para-Church organisations not recognised by CAN Constitution.
In a  statement  signed by Bishop Stephen Adegbite, the Director of National Issues and Mobilization, Christian Association of Nigeria and titled, CAN Has No Supervisory Board, the umbrella body of Christians denounced what it described as frivolous, misleading and unfounded allegations against the leadership of CAN, especially the President.
"Both organisations are aliens to the Constitution of the Christian Association of Nigeria (CAN). These people are false-alarmists who are pursuing selfish interests appealing to public sentiment in order to mislead them against a credible leader and organization. We are well aware that angels of Satan do camouflage as angels of light. CAN is not operating under their supervision and their selfish and false submissions on the report of the panel set up by National Executive Committee of CAN on Prof. Joseph Otubu's false allegations does not require their opinion to be valid", the statement said.
Reacting, the Chairman of NCEF, Elder Solomon Asemota, SAN, in a release titled: "Rejoinder:  CAN has no supervisor", expressed shock at the CAN statement.
Asemota wondered why anybody would make an issue of a constitutional recognition, arguing: "It is not possible for NCEF that was inaugurated on January 15, 2015 to be in the current CAN Constitution which was signed into effect in 2004. The statement that because NCEF is not in the CAN Constitution and therefore not qualified to make comments on CAN issues is trite and irrelevant.
https://newlive.vanguardngr.com/2018/10/2019-if-every-christian-will-vote-according-to-biblical-values-sgf/
"NCEF does not agree that it is trying to  'supervise' CAN; far from it. The National Christian Elders Forum is stakeholder in CAN and has the right to demand accountability from its representatives. The "immunity clause" that the current CAN officials wish to accord themselves is non-existent".
According to the Christian Elders group, the Nigerian Church is very unfortunate with its current group of CAN officials.  It  said the intransigence and unwillingness to accept correction is un-Christian, stressing that even if crime was committed or mistakes were made, the Christian response is to repent and seek forgiveness.
The group explained that NCEF is made up of 27 Christian Elders from all the geo-political zones in Nigeria who are above 70 years, adding that it is inconceivable that these accomplished elders would seek to malign or slander a younger man occupying the office of the President of CAN.