By Gabriel EWEPU
THE Federal Government has concluded plans to procure N360 million worth multi-purpose core drilling rigs for the Nigeria Geological Survey Agency, NGSA, to boost availability of geosciences data for investors and operators in the mining sector.
The Minister of State for Mines and Steel Development, AbubakarBwari, made this known after commissioning two core drilling rigs at the premises of NGSA in Abuja.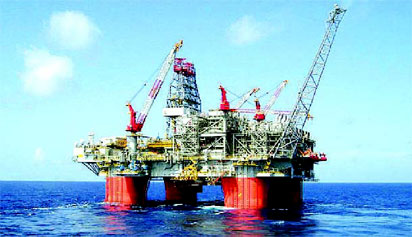 Bwari assured that the federal government will continue to support the sector, and also attract investors as Nigeria now gradually returns to retain its position in the global mining industry, a position it was known before.
The model of the two rigs is HYDX-5A customised core drilling multi-tech equipment.
He said: "The Nigerian Geological Survey Agency, NGSA, being the key agency of the Ministry involved exploration; much is expected in terms of delivering on quality geosciences data. However, because of poor funding, a lot of her activities have been hampered by dysfunctional facilities that include obsolete drilling rigs.
"Understandably though, this negative narrative is changing because of the new thrust of the administration of President Buhari. New field vehicles and state-of-the art exploration equipment have been procured; some laboratory facilities have been rehabilitated and commissioned while greater premium on capacity building of staff is being pursued.
"In consonance with this new narrative, the NGSA has just procured 2no. highcaliber drilling rigs worth N360 million following the approval of the Federal Executive Council. This is against the background that the Agency has been without a functional rig for the past thirty years. This new acquisition represents a clear demonstration of the present administration's desire to support the growth of the mining sector."
According to the Minister the cores they generate are indispensable in defining mineral reserves, the requisite information that de-risks mining investment. The rigs are multipurpose, designed for coring of rocks which are also relevant in engineering applications.
"They are areas well adaptable to groundwater exploration. They will be of immense use in pure research pertaining to geo-thermal resources and other earth science studies."
He added that the data generated will be bankable to attract investors. However, he added that the agency should maintain the equipment and make it a priority. He also advised that all clients should be given equal opportunity to access the equipment.
In his earlier remarks, the Director General, NGSA, Engr Alex Nwegbu, expressed gratitude for the procurement of the two core drilling rigs for the agency.
According to Nwegbu, for more than 30 years the agency has been looking forward to have modern day rigs as these.
He said that, "The rigs we been using has been 30 or 40 years old, and in most cases when you plan that you are going to spend two weeks for a drilling project you end up spending three months because of the repairs due to breakdowns and others. Most times what we do is we contract the drilling to people, which most times do not meet our expectations. We thank the Minister for this wonderful opportunity to upgrade the activities of the agency", he said.
He further stated that, "Most rigs drilling stop at 200-300 meters, but this modern core drilling rigs can go as far as 1.5 kilometers down. So is really a high capacity rig. It can also be used for water borehole drilling. This will seriously upscale the exploration activities of the Nigerian Geological Survey Agency, NGSA.
"This will also make NGSA to generate revenue because a lot of multinational companies are looking for high capacity rigs as these, and is going to help them do their required coring. He added that if more rigs will be bought it will enhance the long craved availability of geosciences data.
"If we allocate more funds we will buy more rigs and of course it will achieve the geosciences data we have so craved to realize and moreover it is coming at a right time when the Ministry has just flagged off the National Integrated Exploration Programme."