By Chioma Gabriel
As the wave of Atikulation sweeps over Nigeria, political pundits and critics seemed overwhelmed with what is going on.
Every discussion and gathering of friends, family members, acquaintances, and colleagues is never complete without discussions about the two major political parties, their presidential candidates and deputies.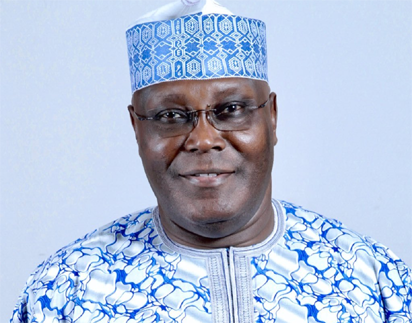 Before the weekend, the presidential candidate of the Peoples Democratic Party,PDP, Atiku Abubakar visited former President Olusegun Obasanjo under whom he served as vice president. Prior to the visit, everybody knew there was no love lost between the two but when Atiku used his wisdom and chose to visit OBJ with important personalities like Sheik Gumi, Bishop Oyedepo, and Bishop Matthew Hassan Kukah among others, it sent an alarm bell in the camp of the ruling party which seemed visibly unsettled and disturbed with the development.
Atiku's peaceful emergence as the standard-bearer of the PDP had roused the ruling party especially with the way his co-contestants supported and endorsed him, pledging to work with him. With the several heavy weights that aspired for the position under the PDP, many had anticipated the party to break into several pieces in concord with the number of aspirants. But the shock registered when Saraki, Tambuwal and other aspirants played the matured game and accepted Atiku Abubakar's emergence with all their hearts and congratulated him, pledging to work with him.
The straw that broke the camel's back for the ruling party was the emergence of Mr Peter Obi as Atiku's running mate. One thing goes for these two. They are completely detribalized. Peter Obi is near-perfect and incorruptible. He calls a spade by its name and would not call black white and white black. No matter how deep they dig, they would not find Peter Obi wanting as a vice presidential candidate.
Ohanaeze Ndigbo asks Igbo leaders to support Obi as Atiku's running mate
Atiku couldn't have made a better choice from the southeast as he has with him a man who believes in the Igbo cause. If the Igbo feel marginallised before now, Peter Obi is one man who will bridge that gap by getting them their due in the political calculation of things in Nigeria. By the time they enter government house May next year, Nigerians would be sure they have in him, a man who would not work for his own pocket or get rich for himself. They will have a peoples 'man who will ensure their interests are fully represented.
Indeed, the ruling APC has a lot of work to do. No one at this stage would say Buhari is the best president Nigeria never had. He came, he saw and many believed he failed to conquer. He has been Nigerian president for more than three years and in these years, Nigerians cried for food and improved standard of living but our president refused to hear. The cabal surrounding him kept feeding him with the wrong impression of what is going on and even when his wife drew his attention to it by her comments, she was dismissively dealt with to have value only in the kitchen and the other room.
Yes, people have criticized the fact that Atiku went with seasoned clergymen to visit Obasanjo to earn his endorsement. Was that an offence? Will that be the first time the clergy was wading into the political issues in Nigeria? Didn't we see how Fr Mbaka endorse Buhari in 2014? Didn't we see how Nigerian clerics do their things politically? Is it an offence for the clergy to dabble into politics? Is Vice President Osinbajo not a clergyman? Are the clergy not Nigerians who deserve good governance too?
It's pure hypocrisy to criticize Bishops David Oyedepo, Matthew Hassan Kukah and Sheikh Gumi for joining Atiku to meet with former President Obasanjo. Fr Mbaka had his heydays supporting Buhari and the supporters of the President saw nothing wrong with that. How could you have hailed Fr. Mbaka, as a forthright Catholic Priest and criticise Bishop Kukah, as a heretic?
Clerics were known to have brokered peace in the past in Nigeria. Fr Moses Adasu was a Catholic priest who became a governor in Nigeria. He was also own to have championed the cause of democracy during the military regime in the days of the National Democratic Coalition., NADECO.
All over the world, the Church is known to have meddled or championed political leadership. The queen of England is the head of the Church. Catholic priests championed liberation struggle against dictatorship in Latin America. During the apartheid regime in South Africa, Archbishop Desmond Tutu reigned supreme as a voice against apartheid.
The supporters of the ruling party should not feel threatened by Sheik Gumi, Bishop Matthew Hassan Kukah and Bishop Oyedepo following Atiku Abubakar to broker peace with Obasanjo.
Variety is the spice of life. The more political parties we have, the merrier. Let the people choose. If the incumbent president re-emerges in a free and fair election, all will be good. The election umpire, the Independent Electoral Commission, INEC, should help matters by ensuring there was no repeat of the Osun experience. Let there be a free and fair election and let the winner win.
The political arena is tight. In 2019 general elections, Nigerians will be dealing with the 'devils' they know, not the angels they don't know. Buhari and Osinbajo are in the limelight as president and vice president currently. We have seen Atiku Abubakar before as vice president and Peter Obi as Anambra State governor for eight years.
Alors, laissez la musique jouer sur. (So, let the music play on.)