By Emeka Obasi
Theophilus Enwezor Nzegwu  is not often mentioned by Nigerians who are more familiar with the name Chukwuma Patrick Nzeogwu. They were majors in 1966, one from Onitsha, the other from Okpanam. Both were commissioned in 1959 and died on July 29.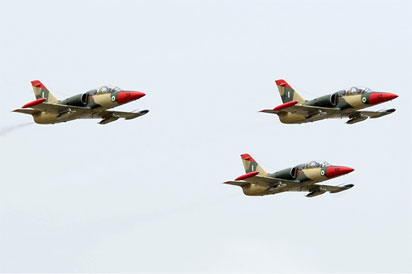 Nzegwu was winged as a Flying Officer of the Royal Air Force straight from the RAF Holton School of Technical Training, England. By 1962, he was a Flight Lieutenant.  Nzegwu  was also an Electrical Engineer who passed through schools in Ghana and the United States.
Nzegwu returned to Nigeria to join the Nigeria Air Force as a pioneer. At a time in 1964, he acted as Chief of Staff and served as a Flying Instructor later. During the January 1966 coup, the task of flying to Calabar to bring Chief Obafemi  Awolowo from jail had his blessing.
During the counter coup of July 29, 1966, this first military pilot was killed in Lagos alongside another pioneer Air Force, Major Peter Obi. He left behind his wife, Aina, and children. Nzeogwu died in 1967.
Nzegwu was not the first Nigerian to join the Air Force. There was  Robert Mgbaraonye who enlisted in 1943, during the Second World War. Tai Solarin would have been the first pilot but he was unable to bring an air down after taking it up. The later years Human Rights crusader lost interest.
Another man who could have become the first Nigeria Air Force pilot, Captain Robert Emmanuel Hayes, changed his mind. The Itsekiri man chose Civil Aviation instead. He made History in May 1955 as the very first Nigerian pilot. Others that toed Hayes path were Joseph Ajakaiye, Samuel Ohioma and Rufus Orimoloye.
Credit goes to Defence minister, Alhaji Muhammadu Ribadu, who made sure Nigeria had military presence in the air as from April 1964. He had brought in Col. Gerhard Khatz of the German Air Force as the commander of the NAF in 1963.That appointment lasted until November 1965, when Col. Wolfgang Timming, another German, took over.
By 1963, the first set of 18 young Nigerians had been selected for training. They included August Okpe, John Yisa Doko, Salaudeen Latinwo, Usman Jibrin, Abdullahi Bello, Winston Aleyideino, Abdul Ganiyu Gbadamosi[King], George Musa Jebak, Danjuma Ato and Willy Ezeilo.
While the cadets trained, some  Army officers were redeployed to the Air Force and nearly all of them had Sandhurst background. Jacob Esuene, Musa Usman, Emmanuel Ikwue, Shittu Akanji Alao and Esio Obada, among others.
More cadets also left for training in Germany, Canada and England. Dan Suleiman, Tony Makpo, Kolawole Falope,Ibrahim Alfa, Clement Ugah, Mike Amanyeiwe, John Ikeokwu Chukwu, Leo Offodile, Bayo Lawal,Nureini Yusuf, Pat Ugbana, Tony Okpere, Joe Ehigie,Charles Nnabuihe, George Ozieh, Gabriel Ebube, Isiaka Lawal, Elendu Ukeje, Larry Obiechie, Moses Gowon and many more.
It was interesting and funny too. Jonah Jang who enlisted in 1966 had never seen the inside of an airplane and was flying to Germany to train as a pilot. That was what occupied the young man's mind as he flew to Frankfurt from Kano.
When Gen. Johnson Aguiyi-Ironsi became Head of State in January 1966, he picked Lt. Col. George Kurubo as the first Nigerian to head the Air Force. He was of the Army, Sandhurst trained and commissioned in 1955.
General Yakubu Gowon went for Alao as Kurubo's replacement and when Alao died in 1969, Ikwue took over. The import is that the first three Nigerians to lead the Air Force, were not trained in the air. They were just infantry men.
And that explained Alao's death. As Air Chief he was not comfortable overseeing pilots when he could not fly. The bulky officer took some lessons and was able to fly light aircraft.
Then on October 19, 1969, Alao decided to fly solo to Enugu from Lagos. Some how, he lost bearing after flying over the River Niger. In his bid to make a detour to Benin, the aircraft crashed in a school field in Uzebba, an Owan area of the Mid-West.
Gen. Murtala Mohammed appointed Col. Yisa Doko as the first pilot to head the Air Force in 1976. The Biafrans had Ezeilo as their Air Chief following the death of Lt. Col Chude Sokei, a Sandhurst trained Army officer. Ezeilo wore the rank of Wing Commander following the British tradition.
The NAF adopted the British ranking in 1976. Yisa Doko became the first two-star general, Air Vice Marshall. Alfa was the first three-star general, Air Marshall. Air Chief Marshal Paul Dike earned four-star.
Alao's son later joined the Air Force, albeit, as a graduate. I met him in 1989 as I accompanied Sports minister, Tonye Graham Douglas, to visit Alfa at Defence Headquarters, Lagos. The young officer was ADC to Alfa. Today, the 52-year-old is Air Vice Marshall Lawal Shittu Alao.
Another former Chief Of Air Staff, Nureini Yusuf, lost his son, Jubril, in the 1983 skirmish with Chad. John Chukwu who was absorbed by Gowon after fighting for Biafra, died later as a Squadron Leader. His younger brother retired recently as an Air Vice Marshal.
The women are also coming up. In 2011, Blessing Liman emerged as the first female military pilot. In 2017, we had the first two regular combatant pilots in the duo of Oluwabunmi Ijehu and Genevieve Nwaogwugwu.
Liman, a Zango Kataf girl, joined after qualifying as a commercial pilot from the NCAT, Zaria. Rector was Captain Chinyere[Onyenucheya] Kalu, first Nigerian female Pilot.
The first all-female crew was no April fool. Capt. Bolaji Adelusi and her crew of First Officer, Yop Wash, Uloma Shodeinde and Kate Ekanem landed an Aero Contractors flight  in Lagos, from Osubi, Warri. That happened on April 1, 2009.
August Okpe, Elendu Ukeje, Tony Makpo and Moses Gowon became commercial pilots. Ibi Allwell-Brown and Frank Osakwe turned to fighter pilots from commercial aviation.
Osakwe flew Dim Emeka Ojukwu to Abidjan and Gen. Gowon to Kampala. They lost their jobs. Moses Gowon flew Gen. Ibrahim Babangida. Makpo was pilot of the Nigeria Airway plane that was  hijacked in 1993.