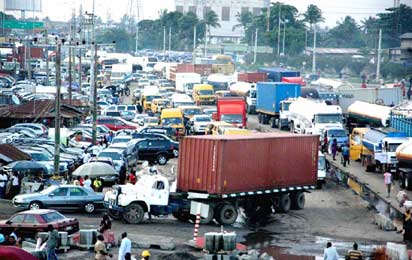 IT would appear that motorists and other users of the ever-busy Apapa/Oshodi Expressway have an endless wait before the nightmare they experience daily on the road comes to an end. The major reason is that while repairs of the failed and dilapidated portions of the Tin Can and Apapa Ports axis of the expressway are in progress, they are also being hampered by the usual traffic build-up and confusion on the road.
Yet, the Federal and Lagos State governments have made repeated efforts to solve this seemingly intractable threat to the nation's economy. Vice- President Yemi Osinbajo had met with private sector stakeholders and also given the Ministry of Power, Works and Housing, MPWH, and the Nigerian Ports Authority, NPA, clear directives towards clearing the traffic quagmire.
In addition, the LASG and the Nigerian Navy had recently ordered the trucks to quit the Lagos bridges, but did not follow up with concrete action. These heavy duty vehicles continue to sit idly on top of these bridges, blocking the major road arteries of the metropolis. To worsen matters, commercial motorcycles have invaded the entire Apapa zone and converted it into an area where law and order has taken flight. The security agencies posted there to control the chaos appear soundly defeated.
While this is happening, living in and around the Apapa zone is a nightmare. Businesses are suffering and many have folded up. Everyone is losing. The trucks and tankers which gather around Apapa from all over the country are also incurring heavy losses due to the long period they spend on queues to access the ports and fuel tank farms. All these could be greatly reduced if only the truck operators would comply with simple instructions; stay in holding bays and await their turns to access the ports.
The Apapa gridlock, which has been in place for the best of the past 15 years, defying succeeding regimes, is a great sign that Nigeria is a country that cannot solve the most elementary of its problems. We have ports in Warri, Sapele, Port Harcourt, Onne, and Calabar. We have also river ports in Onitsha, Lokoja and Baro. Why can't we activate them to disperse these trucks and tankers to other ports and allow Apapa to breathe? Why must the whole nation depend only on Apapa and Tin Can Ports? Why can't we rehabilitate the various fuel depots around the country so that tankers will not need to come to Lagos to load fuel? Can't we quickly complete the roads in Apapa? Can't we activate the Apapa rail corridor to join in evacuating goods? When will Nigeria have a government that can solve problems?