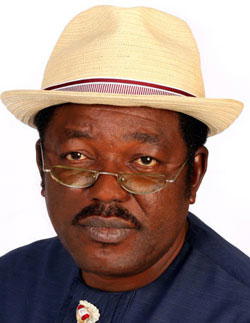 Patrick Ekpotu
…Says Akpabio's defection to APC self-demoting
Chief Patrick Ekpotu was deputy to Senator Godswill Akpabio during his first term as governor of Akwa Ibom State. In this interview, Ekpotu speaks on the gale of defections sweeping the polity, implications of Akpabio's recent defection to the All Progressives Congress, APC, and factors that will shape the 2019 polls in Akwa Ibom.
By Clifford Ndujihe
His take on the gale of defections in the polity
While it is true that every citizen has the right to change where he stands or belongs, the defections appear to ignore basic moral teachings by not separating such rights in the special sphere of the public realm where they occur with the strictly private realm. The nation remains the embodiment of citizens' social existence. The rights that individuals exhibit here should morally be based on a sense of social obligation and duty inspired by solidarity and love for the country and their fellow men. But this is not so.
What we see are defections seemingly governed by the principle of egotistical interests. This contradicts moral teachings and promotes the notion of "each for himself, God for us all." But they want the citizens to hold their defection as a feeling of solidarity and love for the country, which only asserts itself secondarily as "acts of kindness" shown to citizens when buying off their votes with tokens and robbing them blue thereafter in the name of service.
What clearer example of defection for self-interest could there be than the politician, who started with Labour Party then defected to ANPP then to PDP and to APC and now back to PDP with no guarantee that the end of defection is in sight?
The defection of your former governor and principal, Senator Godswill Akpabio from the PDP to the ruling APC appears to be one of the most shocking. What do you think is responsible for that and how do you and other PDP stakeholders in the state feel about that?
It is shocking only to people who do not know Senator Akpabio well. To me, it is a long awaited defection, which finally came to prove those who know him right and above all, shift the theatre of totalitarianism, confusion and destruction to his new abode. To those shocked political observers, Akpabio's defection to APC is considered as weighty as Saraki's defection to PDP but it is wrong. In Saraki's Kwara, his ancestors may have left behind many distinctions to give him a dominating hold on that state and their people cherish it. Unfortunately, it is not so in Akwa Ibom where no such commensurate wand is inspired be it in depth, attainment, wealth, legacies or fairness. A journey into that past rather evokes disdain and repugnance following its glaring shortcomings to which the people had long answered objections and cannot allow a replay no matter where Akpabio derived his inspiration. I see, not just the PDP in the state, but also majority of its citizens playing this out strongly, stoutly, and committedly in days ahead.
Going by the records of his stewardship as governor, such perpetuation by Senator Akpabio will only hold the people dangling over the edge of the abyss, suspended on a slender thread of whatever wisdom he thinks he has, most of it incurably fallible and most often demonstrated to be extremely so. Surrounded by those who constantly drum to him the beauty of his weird world, he gets encouraged to live in delusion. He is fully conscious of these shortcomings and rather than work to improve them, pretends that all is well. His recourse is often to rely heavily on apparatus of State security to cow people into submission and dominion. His decision to embrace the APC now, among others, is because APC is today the custodian of that State apparatus. And I think he is highly mistaken for misapprehending that President Buhari is cut out in the weaknesses of former President Jonathan that was recklessly used to his political peril and became the first to dump him.
Do you agree with the reasons he gave for dumping the PDP given the roles he played in the PDP and privileged positions he held on PDP's platform both in Akwa Ibom and at the national level?
Sure the reasons he advanced obviously failed to add up and so fueled suspicions in some quarters. But even without giving reasons, he has every right to choose where to belong as you said. Unfortunately he opted to excuse himself of unworthy insinuations and innuendos by advancing reasons which now became a source of dismay. The Senator's reasons intended to bring to our immediate grasp, the picture of a necessary political action informed by his sense of duty and social obligation and inspired by his solidarity and love for Akwa Ibom and its people. Though I would not have expected him to follow the path of moral dishonour by putting forward his innermost self-interests, but the reasons he advanced turned out to be arid and fruitless since they failed to unmake the chain of reasoning that compel people otherwise.
One of his reasons that returnees like Saraki could not have suddenly become the Party leader appears weak given that the highest office holder often assumes that position in PDP just as in APC where he pronounced himself leader without recourse to those that had been there upon his defection. That reason rather tilted logical reasoning in favour of the argument that if Saraki could defect to become leader in PDP, another person also stands the chance of defecting to become something equally higher elsewhere. What is confounding is that his suffered a major contradiction in the choice of opposition leadership position in Akwa Ibom State well and above Minority leadership of the Senate of Nigeria. This certainly would not have arisen from the Senator's abundant faith in humanity and confidence in its betterment. Or did something go wrong somewhere?
Some have quoted him as citing "not being invited to most PDP meetings" as another reason. If this could happen despite the roles he played in the party and privileged positions held at all levels, as you pointed out, it probably would have had to do with sudden loss of trust. And since repercussions are inherent in whatever a man does, he would have searched his soul and simply remedied whatever shortcomings.
The heart sinks at the thought of the other reason touching on "lack of reward system" in his party. Yet, he served two terms as governor and Minority Leader of the Senate despite being a first timer. And we were told the rules had to be broken to accommodate him for which some people are still facing criminal prosecution in court for forgery. Defecting in the face of the ongoing trial implies that while the feeling for those prosecuted for his sake remained vanishingly weaker, the notion of "each for himself, God for us all", often inspired by self-interest was stronger.
Were you consulted before he dumped PDP, as a stakeholder and his former deputy?
No he did not. I was as surprised as anyone else even though I could sense it coming.
With your understanding of the dynamics of politics in Akwa Ibom, having served as a commissioner in Obong Victor Attah's administration and as deputy governor in Akpabio's first term, how would you assess the fortunes of both PDP and APC in the coming elections in the state with this recent development in the state?
I think I will be better placed to do the assessment when political parties put forward their various candidates. One would have expected the elections to be more competitive being that it is going to be the first elections in recent times after rigging has been spoiled. With knowledge of all those that will participate, I would have expected that the electorate will be out for the best candidate. The defection of the former governor and the sinister motives read into it appear to have bobbed the argument of this broad consideration as most electorate may stand against whoever Sen. Akpabio supports, no matter the candidate's credentials.
As a former governor of eight years, it will be wrong to assume that the Senator does not have loyalists. But this might be far outside the pale politically since it is not only politics that is at stake but also the future of the people and their aspirations.
So many incommensurables might be weighed before acquiescing in the balance of choice to be made. For instance, the former governor's prudence while serving, how his self-interests were expressed and other's interests accommodated, his self-control and clear sightedness as governor, who the candidate he puts forward is, and answers to the reasons for his sudden distance from Governor Emmanuel.
What is your reaction to the recent statement accredited to Sen Akpabio likening the 2019 elections in Akwa Ibom State to the 1940 invasion of Poland by Adolf Hitler's Germany?
Even though history has proven conclusively that preparations for war always leads to actual war, I would not think that this is how the Senator wanted his audience to view his statement. Every evil arrives in the world a little at a time so that in pushing people into action, a bite of painful experience is added to the voice of pure reason. His various Hitler-like invasions against opposition in the past, had unknown to him, conditioned the people of Akwa Ibom in readiness for his 2019 intentions.
For many reasons, Akpabio cannot seek to replay the cited invasion in present day Nigeria. Firstly, the Poland invasion was a joint one claimed to be a defensive action, with the Soviet Union, Danzig, and the Slovak contingent and the Senator has no allies save the two House of Assembly and two Reps members from his community he defected with. Secondly, Britain and France were not convinced and declared war on Germany, and this is bound to play out during his invasion scheme following Akwa Ibom's readiness and mistrust of his defection intentions. Thirdly, it led to the beginning of WW II with huge cost in human lives which no statesman should gamble with. Fourthly, Germany was to pay for it dearly and Hitler, unable to face the world he thought was in his pocket, was said to have committed suicide. And lastly, that led to the rule of force being supplanted by the rule of law.
What, in this case, will the Senator be defending? With who, I mean allies, is he invading Akwa Ibom on APC's behalf? What is his readiness to play the Hitler figure in his envisaged invasion? Hitler was Germany's Commander-In-Chief and the last time I asked, the Sen is not the C-In-C in Nigeria. And the current C-In-C today is different from the one he knew who could readily surrender a large degree of control of his security forces to him. And if Akpabio had such elastic endurance for tough times, why did he defect from the party he had everyone believe belonged to him?