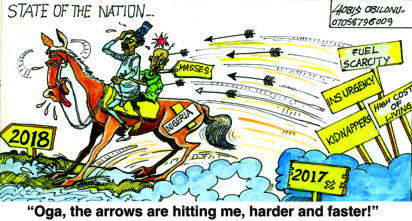 state of the nation
By Josef Omorotionmwan
AS a way of appreciating our esteemed readers, we occasionally bring up their re-actions – those with dissenting views, even more than those who agree with us.
We are happier still, when we are able to trigger off further debates amongst  them, as happened with our work, "Executive Order 6, a Decree misnamed?" – Thursday  July 19, 2018, on which today's reactions are based. Happy reading.
Barr. Joseph Igbinedion (Abuja – Nigeria)
Great article. But, contrary to your argument, I support Executive Order 6. We cannot fight corruption with the failed old strategies.
In fact, one Executive Order I am eagerly looking forward to is one that stops people standing trial for corruption from travelling outside the country for whatever reason, including medical attention and attending their children's graduation ceremonies.
They use these to cause undue delay in the judicial process and rub it on the faces of the people who have been robbed. Let them finish their cases and travel to the Moon or to Mars!
Most reasonable people would agree that the level of corruption in Nigeria is no longer normal! It is unsustainable! Therefore, fighting corruption in Nigeria requires creative deterrence measures like Executive Order 6!
Comment
We shall continue to prevail on our legislators to be up and doing. The remedy you seek can be easily provided by simple legislative enactments. But going by Executive Orders will push  us into illegality and unconstitutionality.
+23481084313582 (Benin City – Nigeria)
No one can fault your argument and style of delivery. But I support Executive Order 6, except set aside by a court of competent jurisdiction. Democracy requires a tinge of dictatorship as there are too many rogues in Nigeria.
Comment
That is really the position of the law: The Executive Order stands until quashed by the Courts.
08062998165 (Okada, Ovia North East – Nigeria)
The shot at Executive Order 6 is, indeed, an eye-opener and a path finder to our lawmakers…. You have not only removed the veil from their faces, you have also shown them what to do and the way to go around it. Well done!
Nicholas Nosakhare Aigbogun (Bronx, New York, USA)
Who beats Josef Omorotionmwan when it comes to creative writing? None that I know of. The last piece on Executive Orders was truly a masterpiece in its entirety. It also provided a total flash-back to those electives in Government that we took in our undergraduate days. Ride on!
Daniel O. Omodolor (Vic. Spain)
As usual, that was another master stroke.
The law is definitely an ass. My heart bleeds each time I see wrenches being thrown in the works of President Buhari's war against corruption. And the legislators who should save the situation are apparently blind to reason. Surely, posterity will judge everyone someday!
Hon. Justice Roland Amaize (Rtd) Benin City – Nigeria
There is no escaping the inevitable conclusion that your article titled, "Executive Order 6, a Decree misnamed?" in the Vanguard Newspaper of Thursday, July 19, 2018, page 31, was a well written and highly commendable piece.
The article forcefully tackles the relevant points required to put the Executive Order to rest as a legal leprous not capable of withstanding constitutional tidal waves. You clearly defined what is meant by an Executive Order and its limitations.
You pointed out the first and major pitfall of the one now in focus, which is its over ambition in encroaching on legislative sphere which exposes it as undermining the principle of separation of powers.
You agree it has the force of law principally due to the fact that power for its making is statutorily based. You noted that it is essentially designed to fast-track decision making process for quick results, even as you emphasized it is not intended to encroach into functions of other arms of government.
You noted the good intention which informed its making and the goal intended to be achieved by it. This then launched you into drawing out a drawback which besets it – its potential to assume someone guilty until he otherwise proves himself innocent. This is a clear summersault of the age long and well tested constitutionally ordained principle of presumption of innocence of an accused person until he is otherwise proven guilty. Presumption of innocence is what makes our criminal justice system accusatorial rather than inquisitorial.
You also observed that not much of legislative but rather judicial measure that is required to put the Order out of existence – a kind of subtle advice to the lawmakers on what step to take to achieve that goal. After some further analysis, you finally knocked down the last nail on its coffin when, after expressing the hopelessness on any expectation that the Executive will overrule itself on it, you noted in conclusion that nevertheless it must be put away. Well done!
Comment
"Gbam!" That's an Igbo colloquial expression for a valid point. As they say, an Englishman dresses for dinner, even in the jungle. See how you have brought your wealth of judicial experience to bear on this simple matter, thus giving your critique the character of a written court judgment. Thanks a trillion
Conclusion
One central theme that runs across all this is patriotism. Nigerians are basically a patriotic lot. The idea of the Executive Order is patriotic; those with dissenting views are, perhaps more patriotic; and President Buhari is undoubtedly most patriotic – as symbolized by his iron determination to push the war against corruption to a logical conclusion.
In spite of the spirit of patriotism, all will count for nothing if the Executive Orders are projected on illegality and unconstitutionality. Anything worth doing at all is worth doing well.
In sum, a chain can only be as strong as its weakest link. Everything points only in one direction – there are yawning gaps waiting for legislative actions to fill them. Let everyone play well his part!