By Gabriel Enogholase
BENIN—SOME members of Reformed All Progressives Congress, R-APC and supporters of Senator Rabiu Kwankwaso in Edo State have resigned their membership from All Progressives Congress, APC.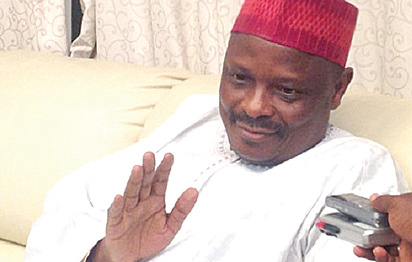 The Kwankwansiyya movement which is a unit in the R-APC was led by its caucus chairman and APC financier, Chief John Adun, the Aiyobahan of Benin.
The development is coming on the  heels of speculations that the National Chairman of the APC and former Edo State governor, Adams Oshiomhole was being expected in the state to reconcile warring factions in the party.
Other prominent members of the group include, Mr Harrison Omagbon, the state Coordinator, and Mr Roland Alari, a former Chairman of Uhunmwode Local Government Area of the state,  Mr. Francis Ikonomwan, former Special Assistant to  Oshiomhole and Mr. Isaac Osahon, a former member of House of Representatives.
The group at a news conference in Benin City,  yesterday, through its spokesman Mr. Harrison Omagbon, said their decision to dump the APC was reached after, "critical evaluation and due consultations in relation to unfolding political events in the country."
The letter of resignation of Chief Osamede Adun and Mr. Omagbon, read in part: "We wish to inform the state leadership of the APC that the 589,137 members  of the Kwankwansiyya movement from the 192 wards in Edo State hereby resign from the APC with immediate effect today (yesterday) August 9, 2018."