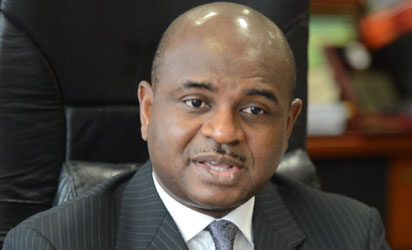 By Ola Ajayi
IBADAN—A presidential aspirant on the platform of the Young  Progressive Party, Professor Kingsley Moghalu has described politicians in the country as clowns who have no interest of Nigerians at heart.
Moghalu, who was a deputy governor of the Central Bank of Nigeria said this at a book reading club organised by the management of Ibadan School of Government and Public Policy in Ibadan on Wednesday.
According to the politician, instead of politicians to design manifestoes that would impact positively on ordinary Nigerians, all they are busy doing is crossing from one party to the other because of their own interests.
He condemned in strong terms, the recent invasion of the national assembly by security agents saying, "most politicians in Nigeria don't have respect for the rule of law. The impunity of the DSS to invade the national assembly is unacceptable. If some of the agencies of the government can't respect the rule of law, how do you expect the president to respect the rule of law? It is time for all of us as citizens of this nation to get involved in politics. Politicians keep on entertaining us with carpet crossing.
"Every week, there is one defection or the other, people still spend time to defend politicians. We need to go to the polling booths in 2019 to vote them out. Nigeria's politics is not based on policies or intellectual understanding of the system but on sentiments, ethnicity and religion. We are either APC or PDP. How can people who didn't go to school be ruling people who are educationally sound? The only reason this is happening is because we have continued to let it happen. It is time for something new, different and bold."
"A leader must be ready to take calculated risks because humans like certainty. We like what we are used to. We know that our politicians are up to no good but we still try to adapt with the situation. That way, we will continue to perpetuate a cycle of poverty because we don't have leaders who can take the society forward.
"The reason for my coming into politics is because I am just one citizen and I am tired of this mess we are in. You cannot build if you are a divider.  We must look beyond ethnic division. I am a Nigerian running to be a Nigerian president and I have a vision for which we can fix this country. We lack leaders with vision who can rise to build a great nation. To fix the Nigerian economy, you must understand intellectually what causes poverty and what builds the wealth of a nation."