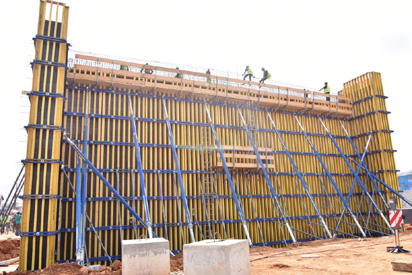 The ongoing construction of a Jetty in Ilaje, Bariga, being inspected by Governor Akinwunmi Ambode, on Thursday, April 12, 2018.
ITB Nigeria Ltd, leader in integrated engineering and construction solutions, has reiterated its commitment to boost innovation in the engineering and construction industry by offering post-tensioning techniques; a unique solution in the global construction industry.
ITB Nigeria Ltd has a fully functional post-tensioning division that offers shop drawings and stressing calculations, safe Installation procedure, supplies, and jack calibrations traceable to international standards.
Post-tensioning is a technique for reinforcing concrete, reducing the occurrence of shrinkage and cracking by strengthening concrete with high-strength steel strands or bars, called tendons. The technique is a form of pre-stressing where the stressing of the tendons is done after pouring and setting of the concrete, thus the name; post tensioning.
It has numerous advantages over standard reinforcing steel as it allows construction that would otherwise be impossible, due to either site constraints or architectural requirements to be achievable.
Speaking on the essence of using post-tensioning techniques, Mr. Ramzi Chidiac, Managing Director, ITB Nigeria Ltd, said, '' At ITB, we constantly strive to improve the quality of our work, elevate levels of client satisfaction, and most importantly contribute significantly to the advancement of the Nigerian construction and engineering community. Our introduction and use of the post-tensioning techniques will guarantee premium quality structures, ensure flexibility of layout and servicing, lighter structure, and lesser construction time''.
Commenting further, Gabby Haddad, a post tension expert/Civil Engineer with ITB Nigeria Ltd implored clients and potential homeowners to consider and opt for this technique. He said, "If we are to grow the construction industry and build structures of world class standards, it is important that we innovate and adopt new technologies.
We are glad to be the pioneers in Nigeria having deployed the technology since 2003 on the Sapetro Towers project, Victoria Island Lagos, other landmark projects across the country and with further improvements in ongoing projects. Post-tensioned slabs tend to have longer life span, concretes are held more tightly and cracks are eliminated".