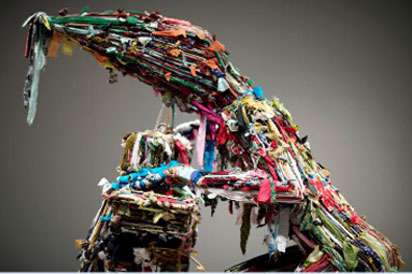 By Japhet Alakam
After the abolition of the inglorious transatlantic slave-trade a couple of centuries ago, a lot of people in Africa are still engrossed in what can be termed modern day slavery. One irony of the present slave trade is that while the people were forced and sold into slavery in the olden days, the present day slavery is voluntary in that people transport themselves outside the country to be enslaved.
Why is it so, what are the reasons behind it, these and other issues are what a concerned Nigerian contemporary artist, George Edozie, will be interogating in his solo exhibition of paintings and sculptures titled: New Nigerian Conjuctures: The art of George Edozie.
The exhibition which will feature 10 works, seven paintings and three scupltures that examine basically the migrant issue, will be declared open by  the art-loving monarch of Onitsha, Igwe Alfred Nnaemeka Achebe, Obi of Onitsha on September 5, and run till September 15, 2018 at National Museum, Onikan, Lagos.
Some of the works include Dimkpa(VIP),  a 12 feet installation; Obinka, a 10 feet wide and 28 feet long installation that depicts a tailor producing clothes but instead, human beings were coming out of it, a piece that tells the story of lack of parenting which is the cause of some of the problems. Another work, a 30-in-one painting titled: The last consignment to Lanpedusa, talks about the various stages they undergo in the process of seeking for greener pasture. Ikpoku Chi, a 6-in-1 painting highlights the level the sojourners go to in the process, like going to churches, mosques and even visiting native doctors to pray and make sacrifices for a successful journey.
According to him, "the whole thing boils down to the failure of leadership. Some group of people have turned Africa into a chess board. They remain on the throne forever  not willing to give the younger ones the opportunity. There is the need for these old rulers to give way for the yopuger ones and there is also need to reconcile with our brothers and sisters who were sold into slavery. God is not happy with the atrocity and the ones still living are not happy too. We need to tell them that we are sorry so that our land will be restored."
The solo which is coming after series of successful solos abroad will be graced by  prominent art collectors, patrons, scholars and colleagues.
The Onitsha-born painter cum sculptor, is one of the artists making waves in the contemporary art space. Edozie is a 1996 University of Benin graduate of Fine and Applied Arts, whose works are widely collected within and outside the country.