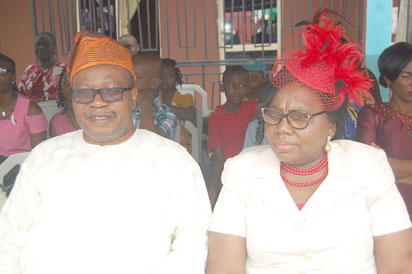 The chief hosts, Chief Sunbo Onitiri and Mrs Mobolaji Onitiri, during the prize-giving ceremony of BOLS INTERNATIONAL COLLEGE, IPAJA, LAGOS.
By Perez Brisibe
Delta Steel Company Technical High School,  Ovwian – Aladja, Delta State has celebrated its 29th edition of the school's  speech/ prize giving ceremony with a charge on its management to protect the brand of the school irrespective of the challenges being faced by the company.
Giving the charge in his speech, the National President of the school Old Students Association, THSOSA, Ajuyah Omajuwa, noted that while the steel complex was comatose and gasping for breath, the institution was the only entity in the entire 'Steel Ecosystem' that was still breathing and producing students whose performances were a paragon of excellence and high moral standard.
In his remarks, the Principal of the school, Mr. J.E. Sido, stated that the institution had  recorded  progress with students performing well in their respective educational pursuits.
He also applauded the Parent/Teacher Association as well as the Ovie of Udu Kingdom and his council of chiefs for the support they had given to the school over the years.
In a visit earlier to the Deputy General Manager, Non-Core, Premium Steel and Mines, PSM, Mr. E.O. Etaghene, Omajuwa, while harping on the need for the company to synergise with them, stated that the Old Students Association was working on a 20-year-strategic master-plan for the school.
Responding, the DGM noted that the management of the company had been carrying out maintenance of the school's facilities including furnishing the school's computer laboratory with 150 computer sets.