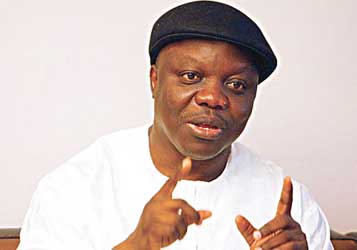 Uduaghan
Uduaghan
By Emma Amaize, Regional Editor, South-South
ASABA- FORMER Governor of Delta State, Dr. Emmanuel Udaughan, has finally confirmed that he will dump the People's Democratic Party, PDP, for the All Progressives Congress, APC.
Speaking on phone to Vanguard, Thursday evening, the former governor said there was pressure on him to come to APC, but it was not an affair of the National Chairman of APC, Comrade Adams Oshiomhole.
"The situation is more from the situation on ground in PDP and my political future. I am also looking at my political future and those of my followers. I have studied the political terrain and I believe the Delta should not be in opposition," he said.
Asked if Comrade Oshiomhole had discussed his movement to APC with him, Uduaghan said: Yes, I am talking with Oshiomhole, we are discussing like old colleagues, it is not a pressure, he would wish that I come over, but I also told him that I have a leader, Chief James Onanefe Ibori and they should have a discussion with him."
An APC chieftain, who spoke to Vanguard corroborated Uduaghan's claim, saying: "Uduaghan and Oshiomhole are ex-governors and friends, so when the matter came up regarding Uduaghan joining APC, he made it clear that he has a political leader, who is Chief James Ibori."
His words: "He told Oshiomhole and those, who spoke to him to discuss with Ibori because as far as he is concerned, there is no competition between him (Oshiomhole) and Ibori over who is his political leader. Ibori is his leader and I do not think that Oshiomhole will contest that."
The stalwart added: "There are a lot of issues and undercurrents regarding Uduaghan and his movement to APC, which will not be dragged to the media just now. We have to watch."
Findings by Vanguard indicated that the former governor may in the next few days register as an APC member and pick the party's senatorial ticket for a battle with Senator James Manager for the Delta South senatorial ticket.
He is also expected to work with other APC leaders in the state, including Chief Great Ogboru, who he defeated in the gubernatorial elections to deliver the state to APC in 2019.
Uduaghan's new move after many thought that he had been pacified by Chief Ibori, Governor Ifeanyi Okowa and others will certainly change political calculations in the state for 2019.
His decision to join APC has also enlivened many of his followers, who were taken aback at his initial resolution to stay back after some PDP leaders rushed to appeal to him.