By Morenike Taire
At the 2015 Kennedy Centre  Honours , Aretha Franklyn got the small but quality crowd excited as she made her signature royal entrance as the guest artiste of the day. It was not her mink stole and classy, vintage hairdo that the crowd was wild about, but the personality of the woman that has been consistently tagged "the Queen of Soul".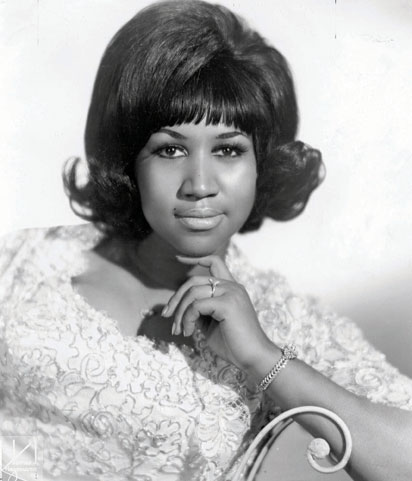 She was performing a hit from one of her dozen hit albums. In fact, "Natural Woman", originally written by one of the night's honourees, Carole King,  is not just a hit song but the one almost solely responsible for bestowing on her, her legendary status. At a point, the tag "Natural Woman" could be used interchangeably with her name. It was like the national anthem of many countries.
As she once again owned the song and finished off with a performance on the grand piano, Barrack and Michelle Obama, as well as several other guests, were in tears. This was the power that the world will sorely miss at the demise of Aretha  Louise  Franklin last weekend  of pancreatic cancer.
As tributes pour in from every corner (pop star, Madonna, is currently under fire for what the media has tagged a "bizarre tribute" of Franklin during the MTV's Video Music Awards on Monday night), many have shared their unique memories of Aretha, once thought to be an enigma.
Born in March 1942, Aretha Louise  began her career as a child singing gospel at New Bethel Baptist Church in Detroit, Michigan where her father C. L. Franklin was minister. She embarked on a secular career in 1960 at age 18 but only  achieved commercial success and acclaim after signing to Atlantic Records in 1966, with songs such as  "Chain of Fools", "Think", "(You Make Me Feel Like) A Natural Woman", "I Never Loved a Man (The Way I Love You)", "I Say a Little Prayer" and "Respect".
By the end of the 1960s, she was being called "The Queen of Soul".
Straddling many worlds, Aretha's talent enabled her to dabble into several genres, apart from Soul. Mostly produced by renowned producer Clyde Otis, Franklin's Columbia recordings saw her performing in genres such as standards, vocal jazz, blues, doo-wop and rhythm and blues.
Great as she was as a musician, songwriter, performer and singer, Franklin  also achieved greatness as a feminist and civil rights  activist, using her immense gift in fighting for the rights of women and black people.
Respect", a song written and originally released by American recording artist Otis Redding in 1965 became a 1967 hit and signature song for Franklin. The music in the two versions is significantly different, and through a few changes in the lyrics, the stories told by the songs have  different flavours. Redding's version is a plea from a desperate man who will give his woman anything she wants. He won't care if she does him wrong, as long as he gets his due respect when he brings money home.
However, Franklin's version is a declaration from a strong, confident woman, who knows that she has everything her man wants. She never does him wrong, and demands his "respect". Franklin's version adds the "R-E-S-P-E-C-T" chorus and the backup singers' refrain of "Sock it to me, sock it to me, sock it to me…".
Franklin's spunky cover was to become a landmark for the feminist movement, and is often considered as one of the best songs of the R&B era, earning her two Grammy Award in 1968 for "Best Rhythm & Blues Recording" and "Best Rhythm & Blues Solo Vocal Performance, Female", and was inducted in the Grammy Hall of Fame in 1987. In 2002, the Library of Congress honored Franklin's version by adding it to the National Recording Registry. It was placed number five on Rolling Stone magazine's list of "The 500 Greatest Songs of All Time". It was also included in the list of "Songs of the Century" by the Recording Industry of America and the National Endowment for the Arts.
Though one of the most honoured artistes of all time, it is in the hearts of her fans, admirers and those she inspired, that she will live forever.
Subscribe for latest Videos